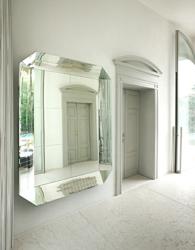 This mirror reminds me of the picture frames from the renaissance period except a much more contemporary rendition. It has a very minimalistic and refined look to it as well. This particular mirror has a very grandiose and luxurious feel.
Middletown, PA (PRWEB) May 22, 2012
Wall mirrors can quickly and easily enhance a room. They create the illusion of a larger space, and even brighten the darkest of rooms in the home. In some cases, wall mirrors can even be the decorative focal point. There are so many options for decorating with mirrors, DecorSpark explains four ways to decorate a room using wall mirrors.
An important thing to consider when picking out mirrors for decorating is its purpose. Does it need to look good and also be functionable? Or, is it completely decorative?
Over at decoist.com, they have 20 fabulous wall mirror ideas, and Decorspark.com categorized them by style and use including, decorating with one large mirror, grouping of wall mirrors, geometric mirror designs, and decorative wall mirrors.
One way to use mirrors when decorating the home is with one large wall mirror. Here's the details on how to decorate with a large wall mirror.
"#1. Decorating With One Large Wall Mirror
Decorating with one large mirror is similar to the way we use bold colors in home decorating. One bold piece can set the entire tone of a room. There are many ways of using a large mirror in the home to decorate with.
Mirrors can add architectural interest, especially when they feature detailed frames. The Megalux mirror is geometrically modern, yet its border mimics the grandeur of crown molding."
Like this little tid bit of advice? There's more where that came from. Make sure to read the other ways to decorate with mirrors at DecorSpark. If space is not an issue for gardening check out these 38 Garden Design Ideas for a garden sanctuary. Don't forget to visit us at on facebook! Sign up for emails at DecorSpark.com to get more ideas like this as well as the best in design, decor, and DIY delivered via email!