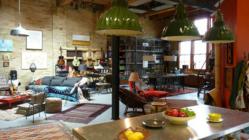 Before Paige, Leo had the quintessential bachelor pad, and it was a little cluttered. Now the loft is calmer and and has more order. She's also added more color. It's so lovely. The bold wall colors contrast nicely with the decor in the home.
Middletown, PA (PRWEB) May 23, 2012
Every once in a while a movie comes out with such amazing artistic direction, the first reaction upon seeing the character's apartment is, "I need that apartment!!" That's exactly how it is with the set of the movie The Vow and DecorSpark shows how to bring the style from The Vow to any apartment.
"Inspired by a true story, The Vow is a romantic drama about a newlywed couple who beat the odds when they're stacked against them directed by Michael Sucsy.
About the movie, to make a long story short, (because we love the set design of the movie, not plot spoilers!) a car accident puts Paige in a coma. When she wakes up she has severe memory loss and her husband tries to win her over all over again.
When the movie opened on Valentine's Day this year, it broke weekday movie release records grossing in at more than $11.6 million and made $41.6 million the first weekend it opened. And as of last week, it was the number one DVD rental.
Aside from the dramatic heart-warming romantic story, the set design was just as awe-inspiring. Designed by Kalina Ivanov, check out her website to read more about the making of The Vow set design.
Prepare yourself for a look at the most perfect couples loft ever full of lived in elegance and bohemian sophistication mixed in with some industrial factory inspired style."
Make sure to read the rest of "Best Set Design: An In Depth Look at the Apartment Style of The Vow"
For more stories related to the best of interior design, home decorating and decor, DIY projects, and inspiration, check out the DecorSpark blog or have it delivered via email instead. Sign up at DecorSpark.com! And don't forget to check out the four ways to decorate with mirrors from DecorSpark.