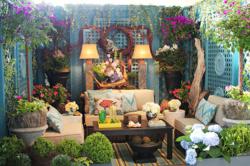 Designed by Elaine Griffin, her approach to this space was to layer it with texture, color and pattern.
Middletown, PA (PRWEB) May 24, 2012
Lowe's Designer Challenge tested the skills of three designers. The challenge? Create the perfect outdoor patio area. Elaine Griffin designing for Kip Bay Boys & Girls Club, Danny Seo designing for YUM-O!, and Marcela Valladolid designing for Olive Wood Gardens each created three different looks, and all are brilliant ideas. DecorSpark breaks down each patio area, explains the style and how to bring it home.
"Are you ready for a hefty dose of creativity coming at you?
Do you have an outdoor room that needs some serious help?
If you're looking to revamp your patio area, look no further.
Melissa from The Inspired Room has all the inspiration you're going to need to get the job done.
Recently, she was in NYC for Lowe's Home Improvement charity event where three outdoor rooms were created by selected designers.
This is the perfect summer room. Perfect for drinking the morning cup of coffee or tea, perfect for some leisurely reading, perfect for a little siesta in the afternoon and perfect for entertaining company! Perfect sums up this room. I love it all too much. Especially how all of the colors really pop and work well with each other creating the perfect contrast. The light also creates this whimsical feeling."
To read the rest of the blog post and to get a glimpse of the other rooms, check out "Lowe's Designer Challenge: Brilliant Ideas for the Patio" at DecorSpark.com.
Like this story? Read more at DecorSpark, where we write about the best in interior design, decorating ideas, home decor, DIY projects, as well as uncovering the hottest trends from movies and television shows. We even covered the loft apartment style in The Vow and showed how to bring the style from the movie home.