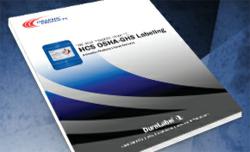 Portland, OR (PRWEB) May 22, 2012
Graphic Products, Inc., a global industrial labeling systems manufacturer, has released a comprehensive GHS Best Practice Guide. The 12-page BPG provides an in-depth look at OSHA's Hazard Communications Standard and phase-in dates while a colorful supplementary Quick Reference Guide provides detailed labeling requirements to ensure compliance. To request the complimentary guide, visit http://www.graphicproducts.com/free-gifts/free-ghs-guide.php.
Specifically, the BPG addresses:

OSHA Hazard Communication Standard (HCS)
HCS OSHA-GHS Scheduled
HCS OSHA-GHS SDS format
HCS OSHA-GHS Labeling
Sample labels
"There's a growing community of EHS managers, senior industrial hygienists and safety officers from the ranks of government, education, healthcare, transportation and manufacturing who will be impacted by these new standards. Our goal is to take the worry and stress out of the adoption process," said James Serrano, Graphic Products, Inc., who recently conducted a 30-minute GHS webinar attended by representatives from major corporations, cities, states and schools.
The phase-in period under the revised Hazard Communication Standard (HCS) is:
•December 1, 2013. Employers must train employees on the new label elements and safety data sheet (SDS) format.
•June 1, 2015. Chemical manufacturers, importers, distributors and employers must be in compliance with all modified provisions of the final rule.
•December 1, 2015. Distributors shall not ship containers labeled by the chemical manufacturer or importer unless it is a GHS label.
•June 1, 2016. Employers must update alternative labeling and hazard communications programs as necessary and provide additional employee training for newly identified physical or health hazards.
OSHA's new labeling requirements are expected to have the greatest impact on U.S.-based chemical manufacturers and chemical importers. The GHS inspired standards will require chemical manufacturers and importers to label chemical containers with the following:
•Harmonized signal word
•GHS pictograms
•A hazard statement for each class and category
•A precautionary statement
"We were pleased to answer several important questions about GHS including timelines, specific concerns from Canadian safety professionals, state-run OSHA programs and how manufacturers will have even greater responsibility to identifying chemicals," added Serrano.
OSHA estimates 5 million workplaces in the U.S. will be affected by these changes. Among the 5 million workplaces, there are about 90,000 establishments that create hazardous chemicals.
With more than 50 unique labeling supplies providing the right label material for nearly every type of application including Arc Flash Labeling and Pipe Marking, Graphic Products, Inc. is equipped to solve problems in the industrial safety arena.
Graphic Products manufactures a broad spectrum of industrial labeling systems which include free DuraSuite label creation software, with a module for creating compliant GHS labels. Each DuraLabel purchase includes free technical support and multi-year printer and supply warranties. Global customers include P&G, Amazon.com, Georgia-Pacific, Boeing, John Deere, Conoco, Sara Lee, Toyota and General Electric. For more information, visit http://www.DuraLabel.com.