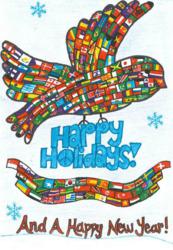 NEW YORK, NY (PRWEB) May 21, 2012
The U.S. Fund for UNICEF announced today the winners of the 2012 Pier 1 Imports®/UNICEF greeting card contest. The theme this year is "Peace on Earth." Kristen Fontana, age 12, from Staten Island, New York, received the Grand Prize Award for her artwork, which will be reproduced as an official UNICEF greeting card and sold exclusively at Pier 1 Imports stores across the country during the 2012 holiday season. This year's U.S. Fan's Choice Award was presented to Mitali Mathur, age 14, from Dallas, Texas.
"We are truly grateful for the continuous support offered by our long-standing partner Pier 1 Imports," said U.S. Fund for UNICEF President and CEO Caryl Stern. "The annual greeting card contest is a thoughtful way to engage and activate U.S. youth and educate them on UNICEF's work and our mission to help the world's most vulnerable children."
"Our annual greeting card contest with UNICEF is a program that we value tremendously," said Alex W. Smith, President and Chief Executive Officer of Pier 1 Imports. "This program allows children nationwide to submit original artwork for a chance to become an official UNICEF holiday greeting card and in addition helps raise awareness of the important work UNICEF does on behalf of children around the world."
About the winners:

Kristen Fontana's Grand Prize-winning artwork features children from countries throughout the world holding hands around a tree as a symbol of universal peace during the holiday season. In addition to the honor of having her design turned into a greeting card, Kristen will receive a $5,000 scholarship and $500 worth of art supplies for her school.
This year's "U.S. Fan's Choice*" winning design was created by Mitali Mathur and features 196 flags representing different countries inside a dove. Mitali will receive $500 in art supplies.
One hundred percent of the proceeds from the sale of all UNICEF cards sold at U.S. Pier 1 Imports stores during the 2012 holiday season will go to the U.S. Fund for UNICEF to support UNICEF programs that provide lifesaving medicines, vaccines, nutritious foods, primary education, clean water and sanitation and emergency relief for millions of children and women in more than 150 countries.
Pier 1 Imports began selling UNICEF greeting cards in 1985. During its successful 27-year partnership, Pier 1 has raised more than $30 million for UNICEF.
ABOUT UNICEF
UNICEF has saved more children's lives than any other humanitarian organization in the world. Working in more than 150 countries, UNICEF provides children with health and immunizations, clean water, nutrition, education, emergency and disaster relief, and more. The U.S. Fund for UNICEF supports UNICEF's work through fundraising, advocacy, and education in the United States.
UNICEF is at the forefront of efforts to reduce child mortality worldwide. There has been substantial progress: the annual number of under-five deaths dropped from more than 12 million in 1990 to 7.6 million in 2010. But still, 21,000 children die each day from preventable causes. Our mission is to do whatever it takes to make that number zero by giving children the essentials for a safe and healthy childhood.
ABOUT PIER 1 IMPORTS
Pier 1 Imports, Inc. is the original global importer of imported decorative home furnishings and gifts. Information about the Company is available on http://www.pier1.com.
For more information, please contact:
Marci Greenberg, U.S. Fund for UNICEF, 212.922.2464, mgreenberg(at)unicefusa(dot)org
Jennifer Engstrand, Pier 1 Imports, 817.252.8130, jengstrand(at)pier1(dot)com
The "U.S. Fan's Choice" winner is determined by visitors to the Pier 1 Imports website, pier1.com, who are given the opportunity to vote for their favorite design out of 10 semi-finalists.