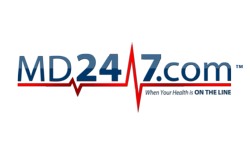 Visit us online at http://www.md247.com
(PRWEB) May 21, 2012
On Monday MD247.COM explained to members of the press that telemedicine is the use of telecommunication and information technologies, in order to provide clinical healthcare at a distance. The end goal is to eliminate distance barriers, in order to improve access to medical services that often would not be consistently available in rural areas.
MD247 went on to explain that in a society with a sincere expressed interest in eliminating both social and economic boundaries, the inexpensive credibility of telemedicine appears to be a "no brainer." The field has not experienced either luxury or ease when proving credibility, forcing the government and universities to first forge a path and make it possible for the public to understand the five "w's" of telemedicine credibility.
1. Who telemedicine can help.
2. What medical ailments telemedicine can help treat.
3. Where telemedicine can be utilized to treat medical ailments.
4. When it is best for a family, a business or a group to consider telemedicine.
5. Why telemedicine is successful in treating non-emergency medical ailments.
One such academic body conducting work to prove the credibility and reliability of telemedicine is the UteleHealth website, which is managed by the University of Miami Health System. The website aptly handles telemedicine discussion, and explains various telehealth initiatives and services across the University Of Miami Miller School Of Medicine.
The UteleHealth website also features articles from telemedicine resources it has identified as credible resources for information regarding the application of telehealth services. The relaunch of the MD247 telemedicine "talk to a doctor" program website made the rotation on the UteleHealth website, reinforcing a recent spate of positive credibility building press that MD247 has been experiencing.
The University of Miami Health System website is located at http://www.umtelehealth.com/.
MD247 advised that parties interested in learning more about the field of telemedicine are encouraged to visit the newly relaunched MD247 telemedicine website at http://www.md247.com. The newly relaunched site covers the history of telemedicine, current applications of telemedicine and potential future advances using telemedicine.
Largo Florida based MD247.COM (MD247; MD/247; MD 247; M.D.247; MD-247) provides an affordable telemedicine supplement to existing healthcare services. MD247.COM telemedicine program members have unlimited telephone access to a nationwide medical support team, all with just a single phone call to the MD247.COM telemedicine Talk to a Doctor/Talk to a Nurse Hotline. MD247.COM has a virtual platoon of registered nurses; board certified physicians and a support staff available to members for all non-emergency situations. More information about MD247.COM is available online at http://www.md247.com.