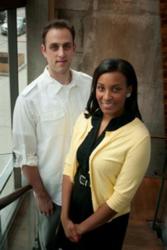 It's been incredible to see two people take a leap of faith on an idea they believe in that has helped so many people secure new positions in life
Chicago, IL (PRWEB) May 22, 2012
Today the Trep Life Original Video Series on Inc.com releases the fourth episode in its Season 1 featuring the co-founders of Network After Work, a national business and social networking event company for business professionals that launched in June 2009.
"James Miller and Samantha Ballenger are well on their way to making Network After Work a household name for young professional. It's been incredible to see two people take a leap of faith on an idea they believe in that has helped so many people secure new positions in life," states Scotty Cadenhead creator of the Trep Life Original Series.
Network After Work allows people to get out there and been seen. The events draw a diverse mix of professionals from all industries and career levels and offer a relaxed atmosphere for professionals to market themselves or their companies with each city's top business professionals. Upon entering an event, guests receive a color-coded name tag by industry that helps make for easy navigation.
Network After Work currently host events in 14 cities across the country (Chicago, San Francisco, Los Angeles, San Diego, Washington DC, Detroit, Seattle, Denver, Minneapolis, Philadelphia, Austin, Dallas, Houston, and Boston). The events are created for professionals who want to expand their networks and create new business opportunities. The events range in size from 150 to 850 professionals and take place in each city's top nightlife destinations.
Here are the themes James and Samantha describe in the episode:

Work/Life Balance - Being an entrepreneur means sacrificing time with family and relationships
The Necessities of Networking - Formalize your networking activities and learn from other entrepreneurs
Use Mobile - Like so many businesses, Network After Work is looking to take advantage of mobile technologies
"We get to see each other everyday and hear success stories from people on how they've landed a great job or increased their network. When you compare what I do to a 9 to 5 job, it's much harder but far more rewarding working for yourself" states James Miller founder of Network After Work.
About Trep Life
Trep Life is an original series video designed to give audiences a unique, transparent, and 360-degree view of what it takes to succeed as an entrepreneur ("trep"). Each episode is approximately 6 to 10 minutes featuring "behind-the-scenes" interviews and footage focused on three key aspects of any trep: The Grind, The Hustle and Payoff. Join Trep Life to impact 1 billion lives worldwide by creating positive change through "entrepreneurship."
About Inc.com
Inc.com is the website for entrepreneurs and small business owners to find useful information, advice, insights, resources and inspiration for starting and growing businesses.