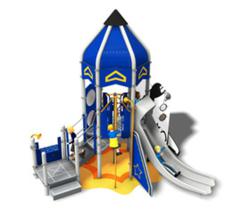 Delano, Minn. (PRWEB) May 22, 2012
Landscape Structures Inc., a Delano, Minn.-based commercial playground equipment manufacturer, is excited to promote a new custom playground design—the PlayBooster® SkyRocket. Clients of Landscape Structures can order this design innovation or use it as a springboard to create a custom playground design of their own.
The PlayBooster SkyRocket will encourage imaginative play and collaboration among children. Kids will climb aboard the playstructure to explore the Mission-Ready Control Panel along with other space-themed play panels, and the playground climbers, slides and other interactive components will keep children engaged for hours of active play. Clients can enhance their playground space theme by adding a "blast" of PebbleFlex® safety surfacing.
Landscape Structures has decades of extensive custom design experience, and has designed manufactured and installed nearly 5,000 custom playgrounds throughout the world. The company can turn an ordinary playground into an outdoor adventure by using traditional playground materials, concrete or a blend of both. With the combination of its unique manufacturing capabilities combined with a team of custom designers and artists with backgrounds that range from building large-scale parade floats to sculpting highly detailed items for the Smithsonian, Landscape Structures creates one-of-a-kind playgrounds that become community gathering spaces.
From the kid-sized Golden Gate Bridge-themed playground that fits perfectly in a San Francisco park to the Oil Rig-themed playground in Williston, N.D., that celebrates the town's history in agriculture and mining, Landscape Structures helps clients create fun and innovative playground designs that are engaging for children and visitors of all ages. The company can also incorporate logos, mascots, and city or school names on playground signs or play panels in order to personalize the playground.
Learn more about custom and theme designs from Landscape Structures by visiting playlsi.com/go/uniquelyLSI, and contact a local playground consultant to get started on a custom playground design today.
Since 1971, Landscape Structures Inc. has been the leading commercial playground equipment manufacturer in the world. The employee-owned company is committed to making the world a better place with active children thriving in leading communities year after year, generation after generation. Landscape Structures encourages outdoor play that develops healthy kids and a sustainable world by creating innovative products that are environmentally responsible. The company's mission from day one has been to enhance children's lives by fostering and creating inspiring play experiences while honoring the environment.