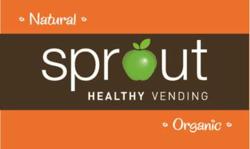 Irvine, CA (PRWEB) May 23, 2012
Sprout Healthy Vending welcomes newest operators, Corwin Howard, Antoine Patterson, and Danielle Russell. The co-owners, also known as Tadpole, Inc., joined forces with Sprout Healthy Vending, a national leader in the vending industry, to provide healthy all natural and organic vending machines to their community in Washington, DC.
Howard was born and raised in Hopkinsville, Kentucky and now is a healthcare provider in DC. "Becoming a Sprout Healthy Vending operator has really changed my view on how eating healthy can surprise ones tastes buds. Healthy food doesn't equate to poor taste anymore," Howard states.
Russell, born in Anderson, Indiana, currently lives in DC working in the healthcare industry as well. "I have, since my teen years, been on a diet and am a chronic Weight Watchers member. For that reason, I am always looking for healthy snack options when I am at work or out and about, but usually I can't find anything that falls in line with my diet," Russell says. "Immediately, when I heard about Sprout, I loved the concept because I found that they provided great options for people like me. For people trying to do the right thing and not blow their diet programs!"
Patterson, a second generation Washingtonian, has had the distinct pleasure of witnessing a shift in his local area to a more health conscious society. "I have been on this evolution of organic eating for some time now and I am very excited to be a part of Sprout Healthy Vending. This is an opportunity to not only educate, but also make healthy choices in eating available to a wide range of people in the DC area," Patterson shares. "I think people are now starting to realize that your body truly is your temple and you should be very selective of what you put inside of that temple. I have had my own personal trials and tribulations with my diet throughout the years so I can certainly relate to the issues that people face daily in terms of trying to eat healthy and maintaining a healthy lifestyle."
The three friends teamed up, bringing their own strengths to the table. "Healthy, all-natural and organic eating is something we all try to do in our daily lives, so the opportunity to incorporate that with our entrepreneurial ambitions was the perfect fit for us," Russell explains.
Seeing such a healthy change take place in their area recently, Tadpole, Inc. is sure their business will take off. "We feel confident that the DC area will embrace the concept of organic, natural vending. It's already a hot commodity, so having even more great, healthy, accessible options is always welcome," Patterson shares. "We know our market will welcome this concept especially with the increase of healthier eating habits amongst the general population and the growth of natural whole food grocer retailers within our area becoming increasingly popular."
Patterson continues, "With this emergence of healthier retailers (e.g. Whole Foods Market, Trader Joe's) within the DC area, we already know the area is ready for better choices. So, having the nutritious option accessible in our schools, gyms, YMCAs, workplaces, etc. makes it readily available and convenient for the every day consumer."
Aside from the convenience aspect, Tadpole, Inc. points out other perks of the business. "We love the fact that the state of the art machine can accept credit cards. That alone makes the machine a stand out from the competitors. Throw in the organic nature of the products offered and we, as healthcare providers, were hooked. As a health care provider you always want your patients to choose a healthier option verses one of non-nutritional value. This mentality has extended into our own lives as well as the lives of the DC public." Howard states.
While spreading the word about their new business venture, the trio likes to convey how current the concept is and how it is going to eventually sweep the country. "We describe Sprout Healthy Vending as a glimpse of the future. We are on the cusp of consumers going back to a more organic, natural way of eating and Sprout is ready to accept the challenge with all natural & organic snack-filled state of the art machines." Russell says.
Co-Founder Chris Wyland adds, "Sprout Healthy Vending is definitely the way of the future. We are already seeing drastic steps being made with government-mandated laws for the nutritional content of food that is allowed in schools. Schools are very successful locations and these laws are only going to enhance Sprout Healthy Vending's presence across the U.S. We are very excited to see the enthusiasm these three show, I know they will continue to lead Sprout Healthy Vending to excellence in the DC area."
About Sprout Healthy Vending
Sprout Healthy Vending provides state-of-the-art vending technology, thousands of healthy and organic products and turnkey customer solutions for regional operators. Currently, Sprout Healthy Vending has over 70 operators in 40 markets in the U.S. with 1,000 individual locations projected by the end of 2012. To learn more about the company, locations and products please visit http://www.sprouthealthyvending.com or call (800) 450-7648.