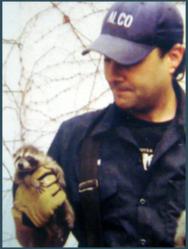 Alco NJ Animal & Pest Control dedicates itself to humane pest control and informative preventive measures.
Bloomfield, NJ (PRWEB) May 22, 2012
With increasing reports of raccoon-related incidents in central and northern New Jersey in recent years it has become more important than ever to be vigilant when dealing with wild animals. While raccoons are mostly harmless, they can be a nuisance when they root through trash, especially because they are particularly adept at opening garbage cans. However, this mild annoyance pales in comparison to the threat that a rabid raccoon may have on humans, for this disease is often fatal. Alan Constantino, owner of Alco NJ Animal and Pest Control says there's another reason why it is important to control the overabundance of raccoons in NJ: if they become overpopulated and start spreading rabies to each other, they will most certainly die in great numbers and upset the ecosystem.
In order to ensure both human and raccoon may peacefully coexist, it is important that the raccoon population is both kept away from humans if it is causing a disturbance, and special care must be taken to handle the animal should it end up being rabid. Mr. Constantino stresses that a non-professional should not attempt to corner or try to capture a raccoon on their own, as these animals can become very dangerous when threatened. It is important to contact a highly trained and experienced pest control expert who knows how to get rid of a raccoon in order to deal with any of these animals when they are encountered in a precarious situation.
Alan runs his pest control business with the view that the best way to go on an offense against intrusions of raccoon pests is to create a plan to deal with them before they become dangerous. The first step in this plan is to inform people about how to tell if a raccoon is in their home, what to do if they are, and how to tell if they may be rabid. Because raccoons often inhabit enclosed, dark areas in a house such as the basement or attic, they can be difficult to spot even though they are large animals. While a healthy raccoon will readily warn what it believes to be an intruder before it attacks, a rabid one may not, so it is always imperative to be extremely careful if one believes they may have one of these animals inside their homes. The most important thing is to keep small children and pets away to ensure they don't get bitten.
While the details are not always agreed upon, all pest control companies agree that the most important thing a homeowner can do upon encountering a raccoon in their home, is to immediately contact a highly experienced pest control company who can deal with the problem. In order to best deal with this issue, Alco NJ Animal & Pest Control offers same day raccoon removal in an effort to control the population before it has a chance to spread rabies to people and raccoon alike. Mr. Constantino hopes this dedication to humane animal control and informative preventative measures will work to simultaneously keep the raccoon population under control and allow the human population to understand more about many of the animals they sometimes accidentally live with.