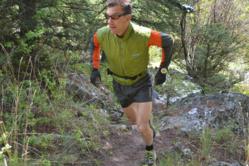 The real truth is that different tools work best under different circumstances, so there is no "one size fits all" best solution.
Bozeman, MT (PRWEB) May 22, 2012
John Yarrington recently tested several different foot pod and GPS watches for the Heart Rate Watch Company Blog and his conclusions may surprise some people that are firmly in one camp or the other for running devices. John is currently training for a 50 kilometer mountain trail race called Old Gabe which is the toughest 50k trail run in America with over 11,000 feet of climbing.
"We had John test the Suunto Ambit and the Polar RCX5 Run with S3-plus stride sensor for this test" says Rusty Squire, President of the Heart Rate Watch Company. "We told John to write exactly his own thoughts, nothing commercial, nothing sugar-coated that pleases us, you write what you think whether we like it or not."
What John found may shock some runners. John tested the Polar RCX5 SD with foot pod on flat to moderate terrain and found it to be very accurate when calibrated to an 8 minute per mile pace on the track but when he got into the mountains the accuracy of the foot pod unit was way off because average stride length can vary so much between steep uphills and downhills.
"John found the GPS watch to be much more accurate for distance and the fact that a barometric altimeter gave him altitude readings and climbing feet helped much more with his pacing" says Squire. He adds, "However on flat ground to slightly undulating terrain he found the foot pod to be more accurate for pacing and distance, plus the elevation change doesn't really matter on this type of terrain."
John wanted to thoroughly dispel the myth that one technology is preferable to the other and, as John says, "Which technology works best is strictly a function of the type of course you are running".
"We read an article in the New York Times last year that said GPS was less accurate than foot pods, but this is not always the case unless you are a flat lander" says Squire. He adds "Here in Bozeman, Montana we have real hills and mountains and the GPS was far better under these conditions".
If you would like to read John Yarrington's complete blog post on GPS versus foot pods you can do so by visiting the article "Foot Pod or GPS - Which Is Better For Running Accuracy?" at the Heart Rate Watch Company blog at blog.heartratewatchcompany.com.
As John says, "The real truth is that different tools work best under different circumstances, so there is no "one size fits all" best solution." He adds, "I tested these devices over several hundred miles of run training, so it was a real test in all sorts of varied terrain."