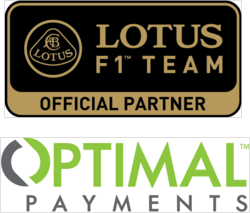 Lotus F1 Team is delighted to have attracted Optimal Payments as a partner ... bringing on board partners who can support us ... is a key part of maximising the commercial opportunities we see from the broader Formula One business.
London, England (PRWEB) May 22, 2012
Optimal Payments, the online payments company, is pleased to announce a new partnership with Lotus F1 Team. Optimal Payments is the provider of the NETBANX gateway, NETELLER eWallet, and NETELLER Net+ prepaid card products used by businesses and consumers in over 180 countries around the world.
Optimal Payments has been appointed an Official Partner of the Lotus F1 Team and will work closely with Lotus F1 Team and its partners to create unique solutions for credit card, debit card and alternative methods of payment in a card-not-present environment. Solutions will extend to North America, Europe and Asia and beyond for the sale of goods and services via online stores, mail-order/telephone order and automated (IVR) phone channels. Alongside growing its client base, Optimal Payments will also seek to develop innovative payments solutions for both the Lotus F1 team and its associates.
Optimal Payments specialises in providing safe payment and money transfer services, giving businesses and consumers the freedom to manage and move their money online. The Company's solutions are built from the ground up to address the unique challenges of a virtual marketplace to remove the risks of variable factors such as identity, currency exchange and distance. In doing so, Optimal Payments is able to facilitate safe, instantaneous transactions for both consumers and businesses and offer a real alternative to banks and card schemes.
Eric Boullier, Team Principal, Lotus F1 Team:
"Lotus F1 Team is delighted to have attracted Optimal Payments as a partner. We are entering an exciting phase in the development of our business model and bringing on board partners who can support us, and our associates, is a key part of maximising the commercial opportunities we see from the broader Formula One business."
Martin Leroux, Executive Vice President & Head of Sales of Optimal Payments:
"Optimal Payments is pleased to be partnering with Lotus F1 Team, an organisation with a strong track record of success in Formula One and we congratulate the team and drivers Kimi Raikkonen and Romain Grosjean on their successes so far this season. Formula One is a sport with unparalleled technological expertise, innovation and unequalled global reach, and the Lotus F1 Team is a forward-looking and agile business, well positioned to take advantage of the opportunities that Formula One presents. This B2B agreement brings together two global corporations that drive their business with speed and the most advanced technology."