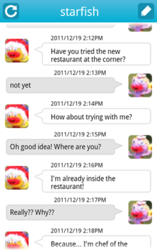 Eyeland Ranked as #1 Free App in Apple AppStore
Tokyo, Japan (PRWEB) May 22, 2012
With the increasing demand for location-based services in the mobile app space, Eyeland, a location-based communication platform, offers users the unique opportunity to connect with others in proximity or any geographical location in real-time.
In Japan, the application's previous version gained popularity without the assistance of paid promotion, and ranked #1 Free App in Apple's AppStore. The service has garnered more than 100 million check-ins and is a regional staple in mobile communication. Seeing an opportunity for international expansion, Oceans Inc. developed Eyeland Version 2.0, which is scheduled for full global release on May 22, 2012, in the Apple AppStore and Google Play Store.
About Eyeland
Eyeland is a location-based, real-time communication application, offering a map-based interface by which users can easily access and interact with other users' activities, associated with any geographic location world-wide.
There is no need to connect with other social media accounts. There is no way to register friends or collect followers. Eyeland is a private, constantly evolving community where you can easily and enjoyably communicate with others in any locale on Earth.
Eyeland 2.0 introduces user avatars and the new feature, Local Stream, which allows for effective hyper-local and worldwide communication via location-based posting and sharing.
For more information about Eyeland Version 2.0, visit http://eyeland.in or send an email to pr@oceans-inc.com .
Eyeland Version 2.0 will be available for download on May 22, 2012 from the Apple AppStore and the Google Play Store.

Oceans Inc. was incorporated on September 16th, 2010 as an internet service company with the expressed goal of connecting the world with its Local Graph implementation. Specialists from the fields of user interface, user experience, creative, programming and monetization gathered to make this possible. Currently, these development and service operations professionals operate Eyeland, a popular local communications platform.
URL: http://oceans-inc.com