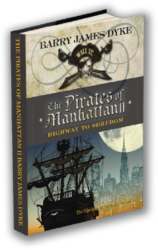 (PRWEB) May 21, 2012
Barry James Dyke, author of The Pirates of Manhattan II: Highway to Serfdom predicts that student loans, in excess of $1 trillion, will likely be one of the country's next financial infernos. http://www.thepiratesofmanhattan.com.
The author states, "Student loans are a treacherous minefield. Faculty and admission staffs urge students to purse their dreams rather than focus on the sticker price of college. Student loans are a form of indentured servitude as student loans cannot be discharged in bankruptcy. Student loans do not die with death. Collection agencies can call day and night to collect student loan debts. Garnishment to pay student loan debt is common. Students are not getting enough well-paying jobs to pay back these enormous loans, yet The Department of Education through the Department of Treasury can attach tax refunds to pay off student loans. What is more, our Congress drove the getaway car for academia and the banks in 2005 with the Bankruptcy Abuse and Consumer Protection Act of 2005—which turned student loans into non-dischargeable debt."
According to the Department of Education, two thirds of students who earn a bachelor degree use some type of loan to finance their education with an average loan of roughly $23 thousand. The New York Times recently reported that as much as 94% of students borrow to get a college degree.
The taxpayer underwrites roughly $105 billion a year in Title IV student loans a year, with $24 billion going to for profit schools owned by Wall Street asset managers. Student loans guaranteed by the taxpayer are a major source of revenue for the U.S. higher educational system and if default rates accelerate, it could bring about a Greece like debt problem to the nation's colleges.
"Excessive borrowing for an education will be a dark cloud hanging over this generation for decades," claims Dyke. "Default rates on student loans for traditional undergraduate and graduate rates are currently as high as 15.8%, and as high as 48% for for-profit colleges. The New York Fed reports that nearly one in four student loan holders are falling behind on their student loan payments. Make no mistake, the exorbitant cost of college coupled with large student debt loads is another financial inferno in the making—with students and regular Americans holding the bag. In many ways the student loan problem is worse than the recent real estate bubble—at least with real estate there is some tangible collateral. Please tell me, how many families in America can readily afford $50 thousand plus a year to attend one of America's schools of higher learning?"
Like mutual funds, credit cards, subprime mortgages, derivatives, 401(k)s and other complex financial products designed, packaged and sold on Wall Street, student loan complexity, economic hazards and the true cost of college is hidden from public view.
College pricing and funding a college education is complicated by a myriad of factors; constant tuition increases, a vast array of grants and numerous opaque formulas. Financial aid letters generated by colleges for families are often confusing and misleading.
The author laments, "Our institutions of higher learning are failure factories. Higher education continues to devour a larger portion of the overall portion gross domestic product (GDP) with little improved job prospects for graduates. High college tuitions funded with large loans do not consistently create jobs. American colleges graduate only about half of their students within six years at traditional schools. Start digging into for-profit college graduation rates, and success falls off a cliff. No one is held accountable. The biggest winners in this student loan mess are Wall Street and a bloated Vichy like educational system which is more concerned about academic tenure entitlement than in living in an extremely competitive global economy."
Dyke concludes, "For years I believed the Federal Reserve System in the United States to be the greatest financial scam. My views are now changing. I now believe our antiquated inefficient educational system, coupled with the student loan tsunami, is even a greater scam than the Fed. The American educational system is not so much an educational system, but an indoctrination system which supports failed systems like the Federal Reserve System—our private central bank which is at the heart of this country's economic woes." The author documents the lobbying efforts which led up to the student loan crisis in The Pirates of Manhattan II: Highway to Serfdom with U.S. Senate voting records and other research. http://www.thepiratesofmanhattan.com. You can reach the author at castleassetmgmt (at) comcast (dot) net or via the telephone at 603-929-7891.