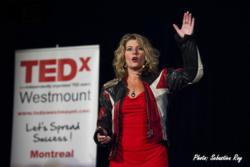 I was impressed by the caliber of speakers, the energy we felt from participant's feedback was exceptional.
Los Angeles, CA (PRWEB) May 22, 2012
Nadine Lajoie was amongst a fabulous speakers' line-up at the TEDx Conference last weekend in Montreal, under the theme "Let's Spread Success."
Hollywood TV Producer, Anthony Maddox attended along with founder of Cora Restaurants and 125 franchises across Canada, Cora Tsouflidou. Owner and publisher of Motivated Magazine and former promoter of boxer, Shevaun Voisin and Fortune 100 leadership trainer, Dr. Ulwyn, just to name a few, shared an inspiring message and gave direction to increase business success.
Nadine Lajoie is currently in discussion to host a TV reality show in the Orange County area this year for teenagers and was nominated for the 4th time this year as a Book Award Finalist for San Francisco, as a Wild Card. Her continued success as an international speaker, best-selling author and international business coach in Canada, the United States has brought her to a new level.
Known as the "Champion Motorcycle Racer who Sings like an Angel," she was really flattered by both opportunities: "I'm so grateful and honored to have been approached to host an upcoming TV Reality Show and the TEDx Conference brings a lot of credibility. I was impressed by the caliber of speakers, the energy we felt from participant's feedback was exceptional."
Organizer Hicham El Amrani and co-host Douglas Vermeeren - one of the top wealth trainers in the world, did a fantastic job and they produced the first ever sold out event. The event was also the first time Canada hosted the internationally recognized organization TED. People will be able to watch the videos online by visiting http://www.TEDxWestmount.com.
You can meet Nadine in person and ask her questions by attending her next events:

May 20-27 – Las Vegas, NV – CEO Space as a volunteer member to give back
May 28 – Los Angeles, CA – eXperience the Game show
Sept 23-24 – Long Beach, CA - California Women's Conference
Nadine's Radio show is 3 times a month (http://www.NadineRacing.com/guests-schedule)
###
About Nadine Lajoie -- Nadine Lajoie is a championship motorcycle racer, international inspirational speaker, #1 Best-Selling author, singer/musician, coach and international business coach in Canada and the U.S., who guides entrepreneurs and teenagers to realize their dreams in her published books: "WIN The Race of Life...with Balance and Passion at 180 MPH", and "Fight For Your Dreams," as a co-author with Les Brown.
You can book Nadine's inspiring and entertaining presentations or coaching programs for your business, women, school or sports organization at conference@Nadineracing.com.
Contact: Beverly Zeliger from Nadynn International Inc. – 949-421-7562
Pictures available at: http://www.NadineRacing.com/pictureshighresolution