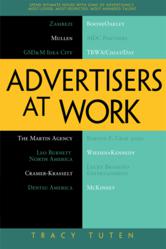 "Conversations with... the sharpest minds in advertising lead the reader gently into the heart of the business. A great read whether you're starting out or simply want to pick up some tips from the greats."—Mark Tungate, Journalist and author of Adland
New York, NY (PRWEB) May 21, 2012
Mad Men brought it to the forefront and now we all want to dig deep into the exotic, fancy, cut-throat world of advertising. The popular AMC series not only spurred a new wave of interest in the industry but also reintroduced a lot of stereotypes. To some, Mad Men reminds them of a time when women were second-class citizens, belittled on a daily basis. To others, it's a meticulous reconstruction of the precipice that was New York advertising circa 1960. Most importantly, viewers get a peek at how creatives brainstorm and what makes big companies like Sterling Copper tick. This is the theme that Tracy Tuten, a top authority in advertising and a leading contributor to industry views on branding goes after in her latest book Advertisers at Work (May 21, 2012, Apress). Is the advertising industry a different beast than it was in the days of Mad Men and if so, how different is it? How has the business changed over the years and what does it take to win in the ad game today?
Advertisers at Work features interviews with top notch advertising executives from agencies as Weiden+Kennedy, The Martin Agency, Mullen, Lucky Branded and many more. The interviews aim to probe deep into the subject's thinking, have them share insights, their favorite stories, debunk the myths of advertising and make predictions on the industry's future. The interviewees talk about their idols, pay homage to the lions of the past and offer advice to all those looking to break or move higher in the industry today.
Says Gerry Graf, Founder/Creative Director, Barton F. Graf 9000, "The people in this book aren't strangers to fancy accolades, but I don't think they would ever use the word 'genius' to describe themselves. What they would say is they work harder than most, they are always learning, and they are always in search of the "new." The book includes interviews with advertising greats such as Chris Raih (United Airlines and BMW), Kristen Cavallo (Volkswagen, NASCAR, Coca-Cola, Hanes, Kohler, Charles Schwab, and Miller Brewing) and Mike Hughes, one of the nine best creative directors in America according to Adweek.
With Advertisers at Work, readers will hear stories and gain insights from the most interesting people working in the field of advertising today, told in their own words. The book caters to a broad readership who is interested in learning more about the people making a difference in the field of advertising—what they are doing, thinking, and anticipating; what they've experienced; and how those experiences are shaping the future of the industry.
*ISBN13: 978-1-4302-3828-7
*350 Pages
*User Level: Beginner to Advanced
*Publication Date: May 16, 2012
*Available eBook Formats: EPUB, MOBI, PDF
*Print Book Price: $24.99
*eBook Price: $17.49
About the Author
Dr. Tracy Tuten is an associate professor of marketing at East Carolina University, where she teaches advertising and social media marketing. Tuten is the author of Advertising 2.0: Social Media Marketing in a Web 2.0 World and coauthor of the textbook Social Media Marketing. Frequently quoted in the press, including in The New York Times, Brandweek, and the Washington Post, she is a leading contributor to industry views on branding. An award-winning scholar, her research has appeared in such journals as Psychology & Marketing, and the Journal of Business Research, among others.
About Apress Media
Apress Media LLC is a technical and business publisher devoted to meeting the needs of IT professionals, software developers, programmers, and business leaders with more than 1,000 books in print and electronic formats. Apress provides high-quality, no-fluff content that helps serious technology professionals build a comprehensive pathway to career success. For more information about the innovative approach Apress takes to publishing, please visit http://www.apress.com