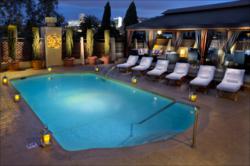 West Hollywood, Calif. (PRWEB) May 21, 2012
The Electronic Entertainment Expo, the annual trade fair for the computer and video games industry, takes place June 5-7, 2012 at the Los Angeles Convention Center and some 80,000 persons are expected to attend. The Expo permits attendees to experience the latest in consumer entertainment and Le Parc Suite Hotel, one of the best full-service all-suite hotels in L.A., still has rooms available for those who've yet to finalize their travel plans.
Centrally located in the heart of exciting West Hollywood with a reputation for being the "home away from home" for sophisticated business and leisure travelers, Le Parc is just twenty minutes to the Downtown Convention Center. Each of the guestrooms at the West Hollywood hotel is an extra-large suite with a private balcony, fully-equipped kitchenette, living area with sofa and fireplace, dining area, two flat screen TVs with access to high-definition programming, complimentary WiFi, and every amenity today's discerning traveler has come to expect. "Le Parc looks forward to welcoming E-3 attendees," said Barry D. Podob, Director of Sales, "especially since we've just completed a complete hotel make-over at a cost of $7 million."
"In addition, our sought-after location, steps from the Avenues of Arts and Design with a treasure trove of antique, furniture, decorator showrooms and art galleries, a block from La Cienega Blvd.'s famed Restaurant Row and close proximity to the colorful Melrose Avenue and Robertson Blvd., with their eclectic antique and chic clothing stores, makes the hotel an ideal spot from which to sample everything that Los Angeles has to offer."
Reservations may be made by calling the hotel at 310-855-8888, by sending an e-mail to reservations(at)leparcsuites(dot)com, or by visiting http://www.leparcsuites.com.
About E-3
E3 is the world's premier trade show for computer and video games and related products. The show is owned by the ESA, the U.S. association dedicated to serving the business and public affairs needs of the companies, publishing interactive games for video game consoles, handheld devices, personal computers, and the Internet.
About Le Parc Suite Hotel
Le Parc Suite Hotel is a true boutique hotel in West Hollywood with its own unique character, style and the highest levels of personal service. Its 154 suites over three floors provide travelers with a range of spacious accommodation options including Studio King Suites, Twin-Bedded Suites, Double Bedded Suites and One Bedroom Suites. Other West Hollywood amenities include Knoll at Le Parc, an intimate and charming restaurant with seating for 32, which features foods created from the freshest and finest seasonal ingredients, the rooftop Skydeck, with its heated swimming pool, cabañas, hot tub and tennis court, fitness center with state-of-the-art workout equipment, a 24-hour complimentary Business Center, and a complimentary house car service available to drop guests off at locations within a 3 mile radius of the hotel. The hotel also offers pet-friendly accommodations.