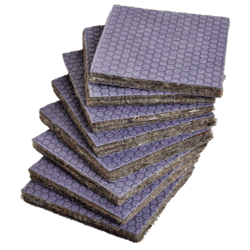 Wilton, CT (PRWEB) May 22, 2012
Rug Pad Corner, the makers of Dura-Grip(TM) furniture gripper, is pleased to announce that the company now offers its popular gripper pad for recliners to stop them from moving and sliding on floors. When placed under any recliner chair, Dura-Grip(TM) works to prevent any movement that can shift the recliner, as well as damage the floor.
"Our Dura-Grip(TM) furniture gripper was originally, and still is, quite popular to keep furniture such as chairs and sectionals from moving", states Sam of Rug Pad Corner. "Due to recent demand to help stop recliners from moving, we now offer Dura-Grip(TM) in sizes and shapes to accommodate the base of recliners." Sam states that a big problem with recliners that sit directly on a hard floor is that when they are opened to the recline position, the force of the reclining motion makes the recliner slide. Dura-Grip(TM) now prevents this shifting and keeps recliners in place and the floors free of any damage.
Dura-Grip(TM) is made in custom sizes and shapes depending on the actual recliner. It works under recliners in the same manner that it does under other furniture. A Dura-Grip(TM) furniture gripper is custom made to the size and shape of the base of the recliner. Next, the pad is placed under this recliner base and the rubber in Dura-Grip(TM) truly works to hold the recliner base to itself, while the lower rubber works to grab and hold to the floor. The result is a gripper pad that will stop the recliner from moving even when the recliner is being reclined.
Rug Pad Corner manufactures Dura-Grip(TM) in its own warehouse. The pad is made in various sizes and shapes and, now, for recliners as well. Dura-Grip(TM) is offered on the Rug Pad Corner web site or on its own Dura-Grip Furniture Grippers web site. Through either site, orders are shipped promptly and for free within the contiguous United States.