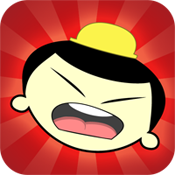 LaSalle, Ontario, Canada (PRWEB) May 23, 2012
Touch Village, mobile game and application publisher, announced today that their new action-arcade game, Chin Up, is now available for download on the App Store and Google Play. Chin Up stars Mr. Chin, a nimble construction worker under siege by a torrential downpour of the most bizarre items to ever fall on a construction site. Various food products (sushi, dumplings, bowls of rice), living creatures (fish, dogs, cats, horses), parts of former living creatures (severed cat heads, brains).
"It's sort of like a politically incorrect version of the classic arcade game, Crazy Climber" says Touch Village's CEO Michael Lapico.
As Mr. Chin heads skyward on his bamboo scaffold, shift him from one side to the other, tilting the platform and dispatching dangerous debris. Swing the platform to position Mr. Chin for a needed power-up or dodge an incoming killer bird. Mr. Chin will travel to construction sites around the world – from the great Wall of China to Vatican City for a battle with The Devil himself. Every level has its own unique droppings, as well as a special life meter that 'tastefully' reflects the atmosphere.
Chin Up is free and downloadable at http://chinupgame.com
About Touch Village:
Based in LaSalle, Ontario, Canada, Touch Village Inc. was established in 2011 as a mobile application and games publisher. Specializing in mobile applications for the Apple iOS and Google Android platforms. Touch Village's portfolio consists of games, educational applications and lifestyle applications.