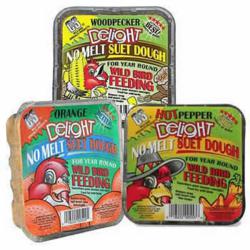 Here in Texas, I have to use a No-melt suet and Duncraft has the best varieties--my birds love it! Becky J. Duncraft Customer
Concord, NH (PRWEB) May 22, 2012
Duncraft offers a wide variety of wild bird foods, from seeds and suets to insect foods and mealworms. Although feeding wild birds is not complicated, Duncraft believes in educating their customers about which foods are the most successful in a given situation. Here Duncraft explains No-melt suet and five reasons why their customers should give it a try.
Most suet products for birds are made by mixing rendered beef fat with other ingredients. The product is heated and then poured into the container it's sold in, then allowed to cool and set up. This kind of suet is fine in winter or in cooler climates. However, if fed to birds in very hot climates or in direct sun, any temperatures approaching 100 degrees will most likely cause the beef fat to melt and drip.
For hot climates, or if the suet is fed in a very sunny location, Duncraft recommends a No-melt suet. No-melt suet, also called suet dough is more finely rendered beef fat mixed with more grains and other ingredients. The more a fat is rendered, (cooked down to remove solids) the higher the melting point. Then the fat is mixed into a soft dough and pressed into cakes. It won't drip or melt even in temperatures over 100 degrees.
Five reasons why Duncraft recommends No-melt Suet.
1. Duncraft's most important reason for feeding No-melt cakes is the health of the birds. Suet cakes are usually offered in a hanging basket and are mostly eaten by clinging birds. Melting suet can get on the bird's feathers—and sticky, oily feathers attract dirt and dust and compromise the birds ability to fly. It's also very difficult for the birds to remove. This won't happen with a No-melt suet.
2. Nesting birds often take bits of suet back to the nest to feed their young. Melting, liquid suet will get on the nestlings' feathers and around their eyes and beaks. In turn it will get on the parent's feathers as the mother sits on the babies. Parent birds can't clean their babies' feathers, so it's a bad situation all around. Feeding a No-melt suet is especially important during nesting season to keep birds healthy and clean.
3. Melted suet not only makes a greasy mess on the ground, it can attract unwanted visitors. Some customers have reported to Duncraft that their pet dogs have been known to lick melted suet off the ground, something that doesn't please their owners. No-melt suets take care of this problem.
4. Suet on the ground is also an unhealthy situation for ground feeding birds like cardinals, grackles, doves and others. Melted suet can mold on the ground and is almost impossible to clean up.
5. Lastly, Duncraft stresses, it's a waste of money! Why watch your suet cakes melt onto the ground where they become completely inedible for the birds? Duncraft's No-melt suet cakes include the words Delight Suet Dough, so customers can easily discern which cakes are the dough variety and safe to feed in hot conditions.
Founded in 1952 and located in Concord, New Hampshire, Duncraft's objective is to bring the joy of backyard birding to wild bird lovers all across the country. Mike Dunn, owner and CEO is constantly inventing and searching for innovative ideas in bird feeding—giving bird lovers years of bird feeding enjoyment, success and satisfaction.
Duncraft
102 Fisherville Road
Concord, NH 03303
603-224-0200