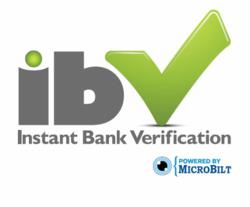 "Companies have been demanding solutions like this for years, and now MicroBilt is able to deliver this forward-thinking tool"
Kennesaw, GA (PRWEB) May 21, 2012
Today, MicroBilt Corporation announced an exciting development in its long standing partnership with TranDotCom (TDC). TDC's online lending customers will now have access to MicroBilt's Instant Bank Verification (IBV), a proprietary technology which brings real-time immediacy that is unmatched in the Loan Management System (LMS) industry.
IBV provides the necessary tools for fully-automated loan decisioning, allowing lenders to assess applicants with minimal cost and time expenditure. And with quicker decisions, fewer applicants will drop out during the verification process.
"TranDotCom has been driving innovation in the short term credit space since our founding twelve years ago," commented TranDotCom's President, Chris Carson. "Our integration with MicroBilt's Instant Bank Verification solution is another example and we are excited to be offering our clients the ability to bring greater efficiencies to their business through our joint focus on the latest technologies."
IBV automatically and instantly provides the lender with six distinct attributes, making it easier than ever to gauge the repayment ability of a loan applicant. The list includes the existence of a specific bank account, amount of time the account has been active, and whether or not the applicant has their paycheck directly deposited to that account. Additionally, IBV can determine the frequency of these deposits as well as the number and frequency of NSF instances from the account. IBV will also determine whether the account has a positive or negative balance, and what the balance is. All of this is done in real-time over a secure network.
The MicroBilt/TDC collaboration continues MicroBilt's mission to be the first to bring innovative and solutions to the alternative lending market. "Companies have been demanding solutions like this for years, and now MicroBilt is able to deliver this forward-thinking tool," said MicroBilt Corporation's Senior Vice President, Sean Albert. "MicroBilt will continue to innovate today and in the future, to the benefit of the industry."
About MicroBilt Corporation
MicroBilt is the leader in serving small businesses with data and tools that they need to manage business risk and make informed lending and hiring decisions. MicroBilt offers the small business owner simple, cost-effective solutions for fraud prevention, consumer financing, debt collection, and background screening. With its PRBC® Consumer Report with the FICO® Expansion® Score, MicroBilt is the leading provider of alternative credit data to businesses that want to offer credit and other financial services to the over 100 million underserved consumers in the United States. For more information, visit http://www.MicroBilt.com.
About TranDotCom Solutions
TranDotCom Solutions is a leader in automated consumer finance transaction processing, providing a full range of consulting, software, support and transaction processing services which allow lenders to be more profitable and highly efficient. TranDotCom Solutions understands and specializes in all components of consumer finance lending including payday advance and line-of-credit products. TranDotCom pioneered the industry's first web-based transaction management system and has been processing transactions since 2000, supporting storefront and online lenders in the United States, Canada, and the United Kingdom. For more information, visit http://www.trandotcom.com