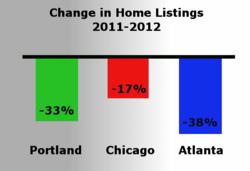 Right here in Portland demand is back, the market has turned, and we are seeing multiple offers on properties for the first time in many years."
Portland, OR (PRWEB) May 28, 2012
"During May we are near record low numbers of homes for sale in any given housing market nationwide, creating room for would be sellers," according to John Bacon Principal Broker at Sold in Oregon, Keller Williams Realty. Total home supplies are down in Portland 33.1% since last year, in Chicago 17.44% and in Atlanta 38.54% according to Realty.com This drop in Supply means those waiting in the wings can finally enter a market in which buyers potentially crowd for their home driving up prices during the bidding process. Housing starts are way up this year which means more supply will come to market to offset current inventory levels so making that move now may well be one of the smartest moves you will make for several years.
Buyers are encouraged by several key factors including record low interest rates which make the same $200,000 home payment today more affordable than it was in 2003. Another factor is that prices are expected to level off and make gains in 2012 according to the National Association for Business Economics
This bump in buyer demand combined with low inventory levels has created a stable moment of opportunity in an otherwise volatile market. With the looming uncertainty of surplus foreclosed properties entering the market over the next year, this window of opportunity may not remain open for long.
With national home supplies at their lowest level since 2007, the housing market has turned in to something we haven't seen in years, a sellers market. "It looks like appreciation has returned to our market place and now may be the time for baby boomers and others who were awaiting the right moment to cash in on their home equity and take advantage of lower housing prices to make their move," says John Bacon, Principal Broker at Sold In Oregon, Keller Williams Realty in Portland.
These home owners bought well before the unrealistic upswing in real estate and just finished riding the price correction. They may also be in a position to downsize as they are less likely to be underwater compared to someone who purchase sometime in the last 10 years. As appreciation begins to return and more homeowners are no longer under water, these baby boomers will find others competing for the homes they were considering to purchase for their retirement years.
John gets asked all the time if now the right time to sell and my advice his always the same. Look at your long term plans, consider current interest rates and the impact that will have on home prices and you will have your answer. Many people forget that these once in a lifetime interest rates are going to start moving up and when they do, those who could of afforded their home will no longer qualify. That could have a direct impact on your selling price in a few years so if your goal is to lock in the unique situation of low home inventory levels and secure that perfect home for your golden years, it's time to sell.
Company Information: Sold In OregonLLC, Keller Williams Portland Premiere Realty
website: http://www.SoldinOregon.com, e-mail: info(at)soldinoregon(dot)com, phone: (503)-925-1100.
John Bacon is a Licensed Oregon Real Estate Agent, Specializing in Luxury and Land Sales. The Sold in Oregon, Keller Williams Real Estate Team has saved hundreds of Oregonians from foreclosure and financial ruin by assisting them with an effective short sale of their homes.