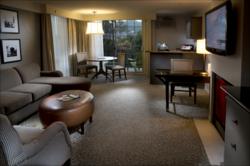 West Hollywood, Calif. (PRWEB) May 22, 2012
Christopher Street West, organizers of "The 2012 LA PRIDE Celebration," announced that this year's event will be held in the newly renovated West Hollywood Park on San Vicente Blvd., just South of Santa Monica Blvd. LA PRIDE, which attracts over 250,000 attendees annually, is the largest gathering of the LGBT community in Southern California. Visitors come to enjoy live entertainment on multiple stages, view headline performances, visit numerous dance venues, sample food and drink sold by outdoor vendors and mingle with thousands of members of a vibrant and active community.
Le Parc Suite Hotel, one of Los Angeles' best all-suite full-service hotels and steps away from the festivities, has rooms available for those who wish to make Gay Pride a mini-vacation. A centrally located West Hollywood hotel with a reputation for being the "home away from home" for sophisticated business and leisure travelers, each of Le Parc's spacious guestrooms is an extra-large suite with a private balcony, fully-equipped kitchenette, living area with sofa and fireplace, dining area, two flat screen TVs with access to high-definition programming, complimentary WiFi, and every amenity today's discerning traveler has come to expect. "Le Parc looks forward to Gay Pride," said Barry D. Podob, Director of Sales, "especially since we've just completed a hotel make-over at a cost of $7 million.
In addition, the hotel in West Hollywood is offering a special Gay Pride Hotel Package which includes an overnight stay in a Studio King Suite for single or double occupancy followed by a Full American Breakfast for one or two persons the next morning at Knoll at Le Parc, our restaurant.
Reservations may be made by calling the hotel at 310-855-8888 and asking for the Gay Pride Package, by sending an e-mail to [email protected], or by visiting http://www.leparcsuites.com.
About Christopher Street West
Christopher Street West Association, Inc., a non-profit organization within the Greater Los Angeles area, is committed to the goals of human rights, education, outreach and better understanding within the lesbian, gay, bisexual and transgender communities, as well as the broader community. CSW was formed in 1970 producing first Pride Parade in the world celebrating the 1969 Stonewall Rebellion in New York City. CSW was incorporated in 1976.
Today CSW under the direction of an all-volunteer Board of Directors, brings together the skills, talents and vision of a diverse community to produce the annual LA PRIDE Celebration in the City of West Hollywood.
About Le Parc Suite Hotel
Le Parc Suite Hotel in West Hollywood is a true boutique hotel with its own unique character, style and the highest levels of personal service. Its 154 suites over three floors provide travelers with a range of accommodation options including Studio King Suites, Twin-Bedded Suites, Double Bedded Suites and One Bedroom Suites. Amenities include Knoll at Le Parc, an intimate and charming restaurant with seating for 32, which features foods created from the freshest and finest seasonal ingredients, the rooftop Skydeck, with its heated swimming pool, cabañas, hot tub and tennis court, fitness center with state-of-the-art workout equipment, a 24-hour complimentary Business Center, and a complimentary house car service available to drop guests off at locations within a 3 mile radius of the hotel. The hotel also offers pet-friendly accommodations.