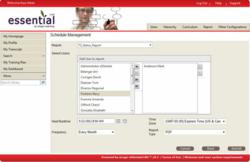 Izenda's reporting tool has proven to be a big success with our clients. It allows our clients to customize their reporting at all levels of their organization across departments and globally.
Tampa, FL (PRWEB) May 23, 2012
Six months after adding Izenda Reports as a feature of eLogic Learning's eSSential Learning Management System (LMS), the results are in. The greater functionality of eSSential combined with incorporating Izenda Reports is a success with eLogic Learning's LMS users and administrators. Izenda is also a hit with eLogic Learning because of Izenda's superior customer support.
The success of eSSential, eLogic Learning's LMS, and the expanding LMS marketplace, including global deployments, increased the need for a reporting tool that addressed industry demands as well as the requirements of eLogic Learning's LMS clients. As part of the architecture of the latest version of eSSential V9, eLogic Learning identified custom reporting, automated or scheduled reporting, and ease of ad hoc reporting as critical features for its clients and the industry. Until now, lack of reporting functionality has been a systemic problem with Learning Management Systems, both for users and administrators.
eLogic Learning required a reporting tool that met the demands for true ad-hoc and user configuration. eLogic Learning did a comprehensive evaluation of the reporting tools of several leading companies. eLogic Learning considered these key factors:
● Ease and speed of deployment for the eLogic Learning development team.
● Out-of-the-box functionality for end-users.
● Ability to customize reporting functions by the end-users.
● Robust scheduled reporting capabilities.
● Current technology now and going forward.
● Quality customer support.
After careful analysis and rigorous testing of many reporting tools, eLogic Learning partnered with Izenda to provide the reporting function core of eSSential.
"We're proud to power eLogic's ad-hoc reporting engine and really enjoy working with their team. eLogic's selection process was very rigorous so it's a great acknowledgement to come out first over other leading competing solutions," said Sanjay Bathia, Izenda's CEO & Founder.
Izenda's reporting tool was added as a feature of eSSential in late 2011. With its increased functionality around reporting, customers are enthusiastic about the ability to schedule their own reports.
Bill Snowdon, CTO of eLogic stated, "Izenda's reporting tool has proven to be a big success with our clients. It allows our clients to customize their reporting at all levels of their organization across departments and globally. Izenda was the only one that gave us the flexibility, code base and ease-of-use for the end user. But that is only part of the story. The fantastic support we get from Izenda makes all the difference."
The Izenda-powered reporting functionality is now one of the key differentiators between eSSential and competing LMS products. With the web-based ad hoc reporting tool, companies using eSSential have the ability to create an unlimited number of custom reports without needing assistance. Clients are empowered and can make report customizations in minutes, without IT and without formal training. Ad hoc reports can be scheduled to run and be distributed via email (as a link, PDF, Word, or XLS). Clients can define an unlimited number of scheduled reports and can also include any user with an email address in the LMS.
For more information about the eSSential Learning Management System, visit http://www.eLogicLearning.com.
About Izenda:
Izenda is a market leader in embedded Business Intelligence, providing ad hoc reporting, real-time dashboards and data virtualization for Microsoft® applications. For more information see http://www.izenda.com.
About eLogic Learning:
eLogic Learning, headquartered in Tampa, Florida, is an award-winning industry leader in web-based learning management solutions and corporate training services. Currently, there are millions of licensed users of "eSSential," eLogic Learning's robust Learning Management System (LMS). Clients include OSI (parent of Outback Steakhouse, Bonefish Grill, etc.), Primerica, Sage Software, Vitera Healthcare, Citizens Property Insurance Corporation, Cobb Energy, the Make-A-Wish Foundation, and many others. The eSSential Platform has been independently reviewed by the ADL to be SCORM certified, ensuring their clients benefit from all SCORM functionality.
In addition to its Learning Management System, eLogic Learning develops custom eLearning content and courses as well as providing "Best of Breed" third-party courseware. eLogic Learning also offers professional services in content strategy and business process change in the development of corporate training programs. eLogic Learning offers its clients a comprehensive turnkey approach to implementing learning strategies.
All trademarks are the property of their respective owners.