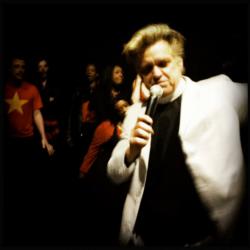 New York City, NY (PRWEB) May 22, 2012
Reverend Billy and the Stop Shopping Choir's NO PIPELINE AT THE HIGHLINE (or Jersey City either).
The Spectra Pipeline is a spectacular Evil, according to Reverend Billy and the Stop Shopping Choir, and an array of anti-fracking groups. The Houston-based company, known for pipeline accidents and its full-court lobbying efforts - wants to ship flammable fracking gas from politically vulnerable upstate rural communities to Manhattan.
The pipeline would cross beneath the Hudson River form Jersey City delivering its gas in the meat-packing district. The brazen tactic resembles Wal-mart's efforts to bring its union-busting to NYC.
Last Saturday Occupy, Time's Up, SANE Energy Project, and the Church of Stop Shopping were among the hosts of a parade from at Pier 54 to the southern terminus of the Highline at Gansevoort and Washington, near the pipeline's proposed port.
NO PIPELINE AT THE HIGHLINE - a worship service and political rally, a songfest and comic sermon - will bring together community leaders to defend our shores.
Event Details:
Highline Ballroom - July 1st, Sunday, 1 PM
437 16th Street, near 10th Ave, NYC
Tix: $10, Highlineballroom.com
family friendly, lunch and spirits served