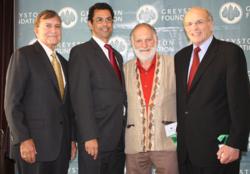 Yonkers, NY (PRWEB) May 22, 2012
Greyston Foundation is pleased to announce that $300,000 was raised at the Greyston Annual Benefit held at X2O Xaviars on the Hudson. President and CEO of Yonkers Contracting, Carl E. Petrillo was honored at the event for his dedication to Greyston Foundation.
Carl E. Petrillo has built on the success of his father, transforming Yonkers Contracting Company into a diverse construction company with esteemed expertise in heavy construction. The company is recognized as a leader in the Tri-State region having worked on many of the area's most historic structures including the Brooklyn Bridge, Penn Station, and Grand Central Terminal. In addition to Petrillo's professional success in the construction industry, he has demonstrated a steadfast commitment to charitable organizations, higher education, and other causes. He has earned much recognition for his service.
"It was a monumental evening," said Edward Falkenberg, Chair of the Board of Directors, Greyston Foundation. "The turnout was incredible. We are extremely grateful to the community for their ongoing support for the Foundation."
A highlight of the evening was the presentation of the very first Bernie Glassman Award to Christopher Davis. Named after Greyston Bakery founder, Bernie Glassman, the Award recognizes achievement in Davis' personal growth and movement along his path toward self-sufficiency. Bernie was in attendance to present the award.
Co-Chairs of the 2012 Greyston Annual Benefit include Kristin & Martin Ball, Jr. (Yonkers); Patricia & Edward Falkenberg (Scarsdale); and Lillian & James Veneruso (Yonkers). Yonkers Mayor and Honorary Chair, Mike Spano and Westchester County Executive Robert Astorino were in attendance.
All funds raised at the event will support Greyston Foundation's community development efforts, which it utilizes as a means of achieving personal and community transformation. Well-known for its Bakery, Greyston also provides jobs, affordable housing for disadvantaged individuals, medical and holistic care to adults living with HIV, high-quality child care, and teaches adolescents valuable life skills, engages public school children in hands-on environment education and supplies employment and training to the formerly homeless and previously incarcerated.
For more information about Greyston Foundation, please contact Jonathan Greengrass at 914-376-3900 ext. 295, visit http://www.greyston.org or email jonathang(at)greyston(dot)org.