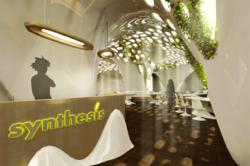 modo brings my mind beyond the pencil and paper into a world of deformers, falloffs, shaders and effects that can quickly and accurately bring what I see in my head out into the real world.
Mountain View, CA (PRWEB) May 22, 2012
When words fall short, interior designers turn to 3D visualization. It's a keen bit of advice and something that the faculty at San José State University School of Art & Design makes sure every student knows before they graduate. Recently this strategy of imparting insight and teaching students 3D tools resulted in a near sweep of the International Interior Design Association of Northern California's (IIDA) Student Design Awards. It appears all that time learning Luxology®'s modo®, the school's 3D package of choice, paid off.
What began as a research project designed to teach students about a specific architect quickly blossomed into full-fledged exploration of the modeling, sculpting and rendering techniques the students had been gaining from continuous modo use. One project (a second place finisher) played with the ideas of vegetarianism and photosynthesis in order to produce a restaurant design that mimicked the internal structure of a vegetable. As an avid sculptor, student artist Chase Lunt found that modo's sculpting features gave him the 3D equivalent of what he had become used to fashioning with his hands.
"When ideas meet modo, the creative possibilities are almost limitless," said Lunt. "modo brings my mind beyond the pencil and paper into a world of deformers, falloffs, shaders and effects that can quickly and accurately bring what I see in my head out into the real world."
As ideas were moved from concept to competitive, the students found an edge in modo's world-famous rendering capabilities. "modo renders beautifully," noted Jessica Sikoryak, SJSU student and third place IIDA award winner. "That level of presentation had to help when my design hit the judges table." Jessica's day spa concept, with its stone walkways and sharp edges, was inspired by Carlo Scarpa's renovation of the Querini Stampalia. And since the education version of modo is 100% feature complete and indistinguishable from the commercial version, Jessica was able to take full advantage of modo's modeling tools while designing her relaxing getaway.
Guidance from their instructor Virginia San Fratello and engagement with Luxology's immensely supportive online community brought the students' modo skills up to competition-level speed in no time. The more they dug in, the more they found modo's user-friendly characteristics to their liking. "Other software programs are more complicated and much more time consuming, not only to render but as design engines, in general," said Lynne Tainter, SJSU student and first place IIDA award winner. "modo gave me a flexibility that helped me seamlessly replicate the Wiel Arets staircase design that made my concept pop. Long story short, it's coming with me when I graduate."
About modo
modo 601 is an innovative 3D modeling, painting, rendering, and animation software designed to accelerate the creation of world-class designs and ultra high-quality renderings. modo's modern workflow and advanced toolset easily deliver enhanced productivity for design visualization, game development, film/broadcast, package design, and graphic arts. A favorite tool among many designers and artists, modo's flexible toolset offers one of the fastest paths to content creation on the PC and Mac.
About Luxology
Based in Mountain View, Calif., Luxology® LLC is an independent technology company developing next-generation 3D content creation software that enhances productivity via artist-friendly tools powered by a modern underlying architecture called Nexus®. Founded in 2002, by Allen Hastings, Stuart Ferguson and Brad Peebler, Luxology is home to some of the top 3D engineering expertise in the industry. More information on the company, its licensable Nexus technology, its flagship product modo® and a gallery of images from the active modo community is available online at http://www.luxology.com.
About San José State University's School of Art & Design:
San José State University provides one of this nation's highest quality, accessible, affordable, and technically leading-edge, educational programs in Art and Design. With nearly one hundred faculty and staff members, and attended by over 1900 students, the School of Art and Design offers comprehensive programs of study in the fields of Animation/Illustration, Digital Media Art, Industrial, Interior, and Graphic Design, Photography, Spatial and Pictorial arts, as well as Art Education and Art History. All program paths lead to professional degrees at the BA, BS, BFA, MA,and MFA levels.