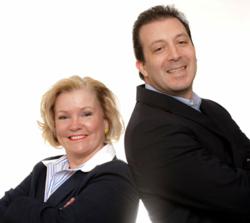 Atlanta, GA (PRWEB) May 22, 2012
The Pedowitz Group, the authority on Revenue Marketing Transformation™ (RMT), announces its executive presence at two upcoming industry conferences this month: SiriusDecisions Summit 2012, May 22 – 24 in Scottsdale, AZ, and the Marketo Global User Summit 2012, May 23 – 24, in San Francisco, CA.
TPG President and CEO, Jeff Pedowitz will present at SiriusDecisions' event on the topic of Revenue Marketing Transformation. Jeff will share how enterprise customers have utilized TPG's proven, six-step process to begin transforming their marketing organizations from a cost center to a revenue center. Jeff has over 20 years of experience leading successful B2C and B2B organizations. His company has placed in the top 50 fastest growing private companies in Atlanta for the second consecutive year and was named a 2012 CRM Watchlist Winner in the Consultant/Systems Integration category.
TPG's Chief Revenue Marketing Officer, Debbie Qaqish, will deliver her Keynote address: The Journey to Revenue Marketing Transformation to over 1200 Marketo users on May 23. Summit attendees are agents of change within their organizations, leading the Revenue Marketing Transformation. Debbie will share the transformational journey of Alex Pelletier of Acquisio, who will join her on stage during this interactive session. Debbie, an internationally recognized speaker, author, and thought leader has been voted one of the top women to watch by the Sales Lead Management Association (SLMA).
Both executives were voted among the Top 10 Most Influential People in Sales Lead Management by the SLMA.
As a part of their presentations, audience members will have an opportunity to conduct their own Revenue Marketing Assessment and see, privately, how they compare to their peers.
About The Pedowitz Group – Connecting Marketing to Revenue™
The Pedowitz Group (TPG) is the world's largest full-service Revenue Marketing Agency. A two time Pacesetter winner, TPG helps global clients transform their marketing organizations from cost centers to revenue centers by assessing and optimizing six controls: strategy, people, process, technology, content and results. As the authority on Revenue Marketing Transformation™, The Pedowitz Group has helped over 1000 clients begin the journey to driving predictable, repeatable, and scalable revenue results. For more information on how TPG helps clients become successful Revenue Marketers®, visit http://www.pedowitzgroup.com or blog.pedowitzgroup.com.