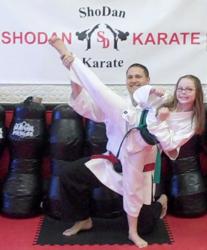 "I was truly humbled that these students would care enough to want to spend part of their three day Memorial Day weekend doing something for veterans"
(PRWEB) May 22, 2012
Shodan Karate of West Warwick Rhode Island is sponsoring a "Kick-a-Thon" by it's students at the Bristol Rhode Island Soldiers home on Saturday, May 26th, at 1pm..
Youth students of Shodan Karate asked their karate teacher, "Sensei" Jeremy Brousseau, a US Army war veteran himself who was deployed to the Middle East 2000-2001, if there was anything that the Karate School could do to help out war veterans this Memorial Day. "I was truly humbled that these students would care enough to want to spend part of their three day Memorial Day weekend doing something for veterans," said Sensei Jay.
Pvt. Peters of Cranston was awarded the "Congressional Medal Of Honor" on March 24th, 1945 for his actions while in Germany during WWII. Private Peters, U.S. Army, Company G, 507th Parachute Infantry, 17th Airborne Division would be proud of these young Karate Students "said Brousseau".
100% of the proceeds collected will be donated to the Soldiers Home in Bristol.
ShoDan Karate is openly accepting donations from any RI Resident and is asking everyone to help make this event a huge success. Shodan Karate is accepting donations and pledges in Pvt. Peters name up until 11am the day of the event. For more information on how you can help the kids of ShoDan Karate reach their goal of honoring Pvt. Peters and give back to the veterans of the RI Veterans Home, contact Sensei Jeremy "Jay" Brousseau of ShoDan Karate.