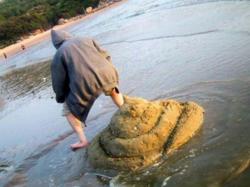 As an entertainment website, it has been GreenBeanBuddy's tradition to reserve Friday for its funny featured posts
(PRWEB) May 22, 2012
Friday is fun time for GreenBeanBuddy.com. For the website, it is the day to celebrate the start of a fun and enjoyable weekend hence came Funny Friday into existence. And for its latest edition, the site shared with its readers videos of funny summer moments as soon the spring season will be officially over.
As an entertainment website, it has been GreenBeanBuddy's tradition to reserve Friday for its funny featured posts. The purpose of which is to give readers enjoyment and a way to escape the everyday serious business.
However, the website isn't just all about fun. It is also about information and sharing it with others. And so, on other days, the site features the latest news on various topics. The site shares the hottest headlines on entertainment, technology, sports and others.
Know More About GreenBeanBuddy.com
Apart from the news, GreenBeanBuddy.com also posts helpful articles. Particularly, it features how-to guides on health, home improvement and lifestyle.
With the news and the tips that it shares, the website aims to be of help. More specifically, it aims to be of help to all kinds of online users.