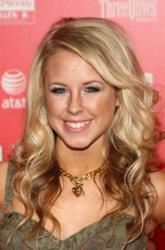 Los Angeles, CA (PRWEB) May 21, 2012
TheraHeel, the revolutionary foot resurfacing treatment, has decided to partner with Dancing with the Stars competitor Chelsie Hightower to promote their product to an expanded audience, specifically including the dance community.
The TheraHeel Resurfacing Mask contains a unique blend of natural fruit and plant acids that penetrate the tough, thick layers of dry, dead skin on your feet. Anyone can certainly benefit from using this product, but dancers should find this product especially useful. There is a great amount of strain put on dancers' feet due to the constant hours spent jumping and jiving, and TheraHeel is the perfect solution to give those feet the treatment they need.
Dancers like Chelsie Hightower approve of this product because feet are one of the most important tools for a dancer, and they need to be in perfect condition! Chelsie is the perfect example of a dancer in need of TheraHeel: she has competed in 6 seasons of Dancing With the Stars and is constantly on her feet. TheraHeel helps people like Chelsie by rejuvenating the skin on her heels, making for a quick "heeling" time!
TheraHeel is excited to be working with Chelsie and to be branching out to the dance community. The company looks forward to helping heal all of the heels they can!