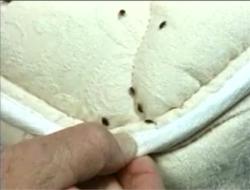 ...hotels are some of the pests' favorite places to infest because of high traffic.
Cincinnati, OH (PRWEB) May 22, 2012
Bed bugs are a big problem in hotels. In Northern Kentucky, a little more than 50% of the hotels had been affected by them, said a report from cincinnati.com on May 18. To help owners and managers resolve their bed bug problems without putting at risk their guests' health, iHaveBedBugs.org advised that they use a pesticide-exempt solution.
Based on the report, there are 64 hotels in Northern Kentucky. Out of that number, 34 have been complained for bed bug presence at least once since May 2010, the report said.
To fight off the pests in the area, annual routine inspection in hotels is implemented by the health department, the report added. If any sign of bed bugs is seen in a room, it is shut down until treated and re-inspected, it was detailed. When a complaint was made, the room specified is also shut down for a month and follow-up inspections are implemented until it is cleared.
Here's an excerpt of the report Bed Bugs Found in More Than Half of Northern Kentucky Hotels from iHaveBedBugs.org.
"There are many things that make bed bugs some of the worst pests that you ever have to deal with. Some of those things are their fast pace in transferring places and their ability to hide unnoticed. Because of those characteristics, they are very hard to eliminate. And with a little more than 50% of their hotels got visited by the blood-suckers, Northern Kentucky sure knows how bad it is to have the pests.
Out of 64 Northern Kentucky hotels, 34 have been at least once reported for bed bug presence according to the Health Department. The record basically covers the period from May 2010 until today. Some of the hotels were reported for infestation in more than a single room. "
Read more about 34 of 64 Northern Kentucky Hotels Were Infested by Bed Bugs at: http://www.ihavebedbugs.org/70/bed-bugs-discovered-34-64-northern-kentucky-hotels/
According to the report, increases on migration, international travel and use of public transport are a big part in the return of bed bugs. Because of that, iHaveBedBugs.org emphasized the need to take bed bug precautions even when traveling.
The website specified that hotels are some of the pests' favorite places to infest because of high traffic. And so, it advised to travelers to always check their rooms for bed bugs.
For hotel owners and managers, the site suggested that they implement a regular inspection. Additionally, it advised them to prepare a pesticide-exempt bed bug spray for an effective and safe bed bug elimination process.
Implement an Effective and Safe Bed Bug Treatment. Learn the Steps from iHaveBedBugs.org.