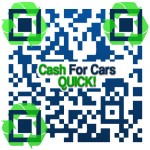 Junking cars for cash everyday in Chicago, call us for an instant quote for your vehicle.
Chicago, Illinois (PRWEB) May 25, 2012
Nation's leading junk car recycling company Cash for Cars Quick is all set to make a significant impact on the old car disposal industry in Chicago. The company has recently started offering their service in this part of the country, and is already making life easier for the owner's of old and unusable broken down or wrecked cars. They are a trusted name throughout the United States for their advanced disposal service that takes perfect care of the environment along with offering the best possible financial return to the car owners. The company launched its cash for junk cars Chicago IL service earlier this year and has reported steady growth in the region. The company specializes in recycle, reuse, and disposal of wrecked and junked cars, trucks, and SUVs after buying them from the owners. To find out more about them, please visit http://cashforcarschicago.cashforcarsquick.com/.
The maintenance of old and unusable vehicles has always been a constant source of headache for the car owners. Moreover, the environmental regulations pertaining to these cars are also extremely stringent. Many owners of these vehicles are interested in disposing their cars, but are not very well acquainted with the process. Within just a short time in the Chicago market, their cash for cars Chicago service has played a commendable role in spreading awareness amongst common people about the disposal of such vehicles. Junk cars are towed, crushed and melted to recover reusable materials like steel products and other raw materials.
Many junk car owners in Chicago has earned up to $600 for their discarded cars from Cash for Cars Quick. Exemplary commitment to customer satisfaction and environment has made them a force to reckon with in the industry. Talking about the service offered by the company, CEO of the company William Leonard says, "We promise to provide you the best price for your old cars irrespective of its condition. We invite all of you to come to us and play your part in building a greener tomorrow." Visit http://cashforcarsquick.com for more info.
About the Company: Cashforcarsquick.com is a growing junk car recycling company that provides cash for junk cars to the vehicle owners throughout the United States. The company follows environment friendly disposal practices to safeguard the future of the planet.
Contact:
William Leonard
Phone: 888-862-3001
Email: info(at)cashforcarsquick(dot)com