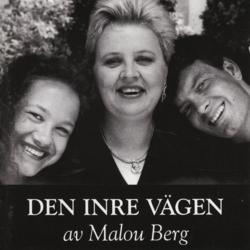 Los Angeles, CA (PRWEB) May 22, 2012
Den Inre Vägen (The Inner Path) -- the latest release from Swedish World Music vocalist Malou Berg will be available on iTunes May 22nd on Malou Berg ProSongs AB. Berg's latest offering is a "modern mass" with a distinctly Gospel feel that is certain to deeply touch and amaze listeners.
Den Inre Vagën (The Inner Path) was composed and arranged by Malou Berg and Anders Ekdahl. Created expressly for 3 soloists representing the tenants of Faith, Hope and Love. Berg's conviction and musical skill evoke an overwhelming musical experience, and her swelling musical suite will leave no one untouched. The piece features 20 separate, but related songs featuring vocalists Olle Persson ("Love"); Lena Maria Klingvall ("Faith") and Malou Berg ("Hope"); as well as a choir (Sacré Chouer), a band and a string quartet.
"For several years I was talking about composing a piece of music with a beginning, a middle and an end," says Berg. "In the course of composing this album, I found myself writing for three individuals, three voices -- Faith, Hope and Love -- with different personalities, longings and weaknesses. They are all on the path of life, but on different distances from the final goal. They share a longing to find God, to be near, true and faithful to their heart as well as the difficulty of finding and walking their inner path and a quest to experience limitless love. Yes, Den Inre Vägen is about all of that."
On the track, "Öppna Ditt Hjärtas Dörr" ("Open the Door to Your Heart), Berg offers a welcoming message of love and encouragement to start fresh and leave behind old baggage, while on "Hör Min Bön" ("Hear My Prayer") -- a choir sings of a yearning for God. The narrative weaves its compelling way through tracks like "Se Dig Om" ("Look Behind You") and "Jag Tror, Längtar Och Vill (I Believe, I am Longing and I Want To) as the voices of Faith and Hope struggle with life's fundamental question, "How do you listen to your heart?" Ultimately, Berg's inspired narrative culminates with "Slå Hjärta Slå" ("Beat My Heart, Beat") which reminds the faithful avoid becoming mired down in bitterness and always allow hope and joy of life stay with you.
A native of Stockholm, cabaret artist/composer/vocalist Malou Berg has performed on theater stages, and acted in both film and popular television series, and her songs have been covered by a variety of artists. Educated at the prestigious Adolf Fredrik Music School in Stockholm as well as the Berklee College of Music in Boston, Berg has received numerous awards including: a 1982 STIM (The Swedish equivalent of an ASCAP award) and a Certificate of Achievement in the Billboard Song Contest's Gospel category. In addition, Berg was awarded the 2009 Word-Prize at the annual WORDFESTIVAL for creating her own sensual and musical language, Pleiadian – as well as for her capability to, "inspire others to express themselves in singing the words and enjoying them."
For additional information please visit: http://www.malou.se