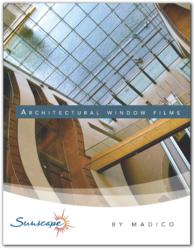 St Petersburg, FL (PRWEB) May 22, 2012
Madico, Inc. one of the world's leading manufacturers of automotive, solar, safety and security window films, today announced the introduction of Sunscape®, its new premium line of residential and commercial designer window films.
The new line includes a full range of innovative solar control products including the new Purelite 60, an extremely light window film that provides balanced solar performance with an attractive natural appearance on glass.
"With its unprecedented marketing support, online and offline sales support, and exclusive territories, Sunscape by Madico offers an innovative approach to helping dealers reach their business goals," says Jeffrey Plummer, Sr. VP of Sales, Marketing and Distribution of Madico Window Films, Inc. "We're very excited about providing our valued dealers, as well as new dealer partners, with this premium product offering and business opportunity to truly differentiate themselves in the marketplace."
Sunscape delivers a complete dealer program with comprehensive marketing support, including a dynamic consumer website with lead-generating custom dealer pages, as well as a dealer-exclusive online support center providing the latest news, tips and helpful discussions. The Sunscape business opportunity will be offered to window film companies that show a professional desire to grow the architectural window film market, provide exceptional customer service and enhance their business with a premium film line. Exclusive territories are now available and Madico is taking applications for those interested in this premier program. Dealers are encouraged to call 888-887-2022 to receive their free Sunscape Business Opportunity packet.
About Madico Window Films, Inc.
Headquartered in St. Petersburg, FL, Madico Window Films, Inc.® develops, manufactures, and markets technologically advanced laminates. They have been successfully doing so for more than a century. With an unrivaled commitment to quality of design, Madico continues to pioneer industry-first products and processes with a focus on solar control window films for vehicles, homes and commercial property.