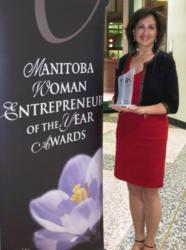 "The secret to success...
Fill a need, (+) add your passion (=) equals success"
Winnipeg, Manitoba (PRWEB) May 22, 2012
The City of Winnipeg was the proud sponsor of the Lifetime Achievement Award. "We salute this deserving recipient, Majda Ficko, for her perseverance, entrepreneurial spirit and commitment to business excellence, and for inspiring other like-minded women entrepreneurs to achieve their personal and professional best."
The Women's Business Owners of Manitoba (WBOM)
"Through her ability to adapt to changing times and market demands, as well as her abiIity to continue to grow as a person, she symbolizes the entrepreneuriaI spirit and stands as a role model for other women entrepreneurs."
In 1987, Majda Ficko's Hair Do Zoo was the only children's hair salon in Canada. Child-sized furniture, fun décor and animal chairs all keep kids happy so they'll stay calm while getting a great haircut from specialized stylists who only work on kids.
To complement the hair salon, Majda started Olen Cosmetics to formulate and manufacture all-natural products for babies and children. Her most notable product is Baby Butz diaper cream, developed to care for her severely disabled child. It's now licensed by Health Canada, and has been included in gifting suites at the Golden Globes and Academy Awards.