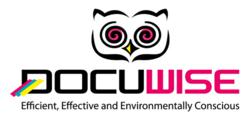 MPS is becoming a very hot topic for IT Service Providers, and the DOCUWISE solution was developed with Managed Services Providers (MSPs) in mind
Los Angeles, CA (PRWEB) May 23, 2012
Broadening its stable of business solutions for the IT provider, Virtual Administrator chooses DOCUWISE's PESO™ MPS-RMM platform and makes MPS available to its partners. The DOCUWISE/ Virtual Administrator Managed Print Solution is a proprietary solution and brand- agnostic, allowing MSPs to support any OEM brand and model of print device, printer, copier or MFP.
"MPS is becoming a very hot topic for IT Service Providers, and the DOCUWISE solution was developed with Managed Services Providers (MSPs) in mind", stated Chris Amori, President of Virtual Administrator. "Our mission at Virtual Administrator is to find ways for our partners to better serve their clients, while at the same time generate recurring revenue to provide for their own business' health", continues Amori, "through our partnership with DOCUWISE, our partners have the potential to add thousands of dollars to their bottom line, while also saving their clients' money". "In this economy that is win-win", concludes Amori.
Through its partnership with Virtual Administrator, VARs, MSPs and other IT Service Providers can become Managed Print Solution providers and generate recurring MPS revenue quickly and easily. Virtual Administrator will assist with the on-boarding process and training, DOCUWISE will provide the back-end support and fulfillment of supplies and services.
"We believe that managed print is part of managed services. When it comes to outsourced IT, remote monitoring and management, Virtual Administrator's strategy of delivering profitable technology solutions matches our own", explains Ron Harris, CEO of DOCUWISE. "Together we bring Virtual Administrator's partners much closer to managing their client's entire IT environment".
The partnership combines Virtual Administrator's expertise in recruiting and training the smaller IT provider with DOCUWISE's robust print monitoring tool. Virtual Administrator's partners will have access to the following:

MPS-101, the DOCUWISE accelerated MPS e-Learning program, taking the partner step by step on how to sell managed print services.
DOCUWISE Managed Print CRM, a central database that will track all information about their clients' printing infrastructure, as well as track the sales process.
High quality consumables, manufactured and distributed by DOCUWISE (with a-la-carte supply-service and MPS options), drop- shipped directly to partners' clients as needed.
Nationwide on-site service (wholesale), allowing all partners to have access to printer technicians.
Managed print contract automation and implementation, and sales and marketing tools.
About DOCUWISE:
DOCUWISE is a Hybrid Managed Print Solutions Provider. The DOCUWISE Partner Program was rated 5 Stars by CRN in April 2012. The DOCUWISE MPS solution is turn-key, and was created exclusively for IT Service Providers. Our proprietary cloud- based MPS-RMM platform PESO™ allows an IT service provider to monitor, manage and automate an unlimited number of Document Output Environments simultaneously. The PESO™ MPS-CRM guides an MPS Partner through the entire MPS process from prospecting to implementation: it's comprehensive, easy to use and intuitive. PESO™ includes online training, remote monitoring, data tracking, supply fulfillment, nationwide on-site service, help desk, automated billing options, TCO analysis, rightsizing, asset allocation, proposals, contracts, implementation and optimization. For more info, please visit http://www.docuwise.net
Contact DOCUWISE - info(at)docuwise(dot)net - 310.928.3030
About Virtual Administrator:
Virtual Administrator, a division of Network Depot, LLC, is based in Reston, Virginia. Network Depot has twice been named as one of the MSPMentor's TOP 100 MSPs. Created in 2005 from the merger of ForSense Solutions (est. 1991) and Amori Network Solutions, Inc. (est. 2001), Network Depot supports hundreds of customers in the Washington, DC metro area. Virtual Administrator was created from a desire to help small IT shops become bigger ones by allowing them to have access to the same quality tools that previously only larger companies could afford.
Our business model is a simple one. We extend the same Managed Services tools and best practices we use in our own Washington, DC area IT Services business to other IT Providers, helping them become more productive and profitable. Our partners are provided with detailed training and support on how to use these "best-of-breed" tools in a real world setting. This "hands-on" approach separates us from our competition. We understand Managed Services. To learn more, please visit http://www.VirtualAdministrator.com.
Contact:
Dan Kolansky (dan(at)virtualadministrator(dot)com) - 703-230-2305
Chris Amori (chris(at)virtualadministrator(dot)com) - 703-230-2301