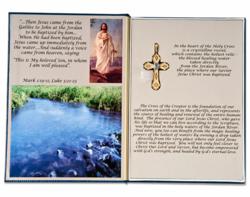 (PRWEB) May 31, 2012
This unique holy cross is beautifully crafted from silver or gold. Each holy cross contains holy water collected from the Jordan River and transported to HCI location in Los Angeles California, this water is believed to have unique healing properties that refresh, renew, and rejuvenate believers. Experienced jewelers place the water drop by drop into the hand crafted piece with care and precision at HCI Los Angeles workshop. A unique sealing technique is used to encapsulate the holy water within a cabochon cut stone.
Each silver and gold cross is handmade making every holy cross unique and each cross beautifully depicting the momentous baptism of Christ. This is a thoughtful and beautiful gift for a baptism, 1st communion or any other occasion.
These unique crosses are delivered in an elegant hard cover box with an embossed numbered certificatge of authenticity. Available in English or Spanish
Holy Cross International has an exclusive partnership with Operation Blessing, which is a non-profit charity devoted to serving impoverished children and families throughout the world. Not only HCI provides one day of hunger aid relief to a child in Africa each time they sell a cross, Holy Cross International also donates a portion of their proceeds to the yearly sponsorship of children throughout the United States as well as Latin America.