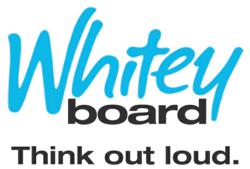 Who wouldn't want an entire wall you can write all over? - Mark Cuban
Los Angeles, CA (PRWEB) May 24, 2012
Los Angeles-based startup company Whiteyboard, best known for their lightweight, adhesive version of the traditional dry-erase board, now has a familiar investor on board. The two-year-old company has recently raised capital from angel investor Mark Cuban and real estate investor Paul Jennings for exchange of an ownership stake of the company. Using this new financing, they now plan to expand their product line and penetrate the big retail chains.
Whiteyboard has broken into the new paint market in recent months with its white and clear dry erase paints. The paint transforms walls into a writable / erasable surface in less than a day. The clear version allows for endless possibilities and colors, turning any color wall into a writable surface while maintaining the existing color or pattern.
"Whiteyboard is really an innovative company, taking a 50-year-old concept and revamping it for the twenty-first century," said Mark Cuban. "Who wouldn't want an entire wall you can write all over?!"
This week also marks the release of Whiteyboard's new 2-part low odor, low VOC paint. This new paint will offer the same great performance as the 1-part paint, but with very little odor when installing. It will be offered in white and clear.
Saachi Cywinski, Whiteyboard CEO, says, "Our new low odor paint will be great for people painting in rooms with poor ventilation or in close quarters, like an office building."
Thanks to their faithful investors, Whiteyboard now has big plans to get on the shelves of the big retail chains. They have been putting a lot of work into preparing for the transition from online retail to brick-and-mortar.
"Whiteyboard will have the best looking packaging on the shelves, so it'll be hard to miss us when walking down the aisle," said Cywinski. "Someone had to make the stationary aisle more interesting."
About Whiteyboard:
Whiteyboard was started in 2010 by college students. They are best known for their adhesive, repositionable whiteboards that can be stuck to any flat surface and used multiple times. The company has now added another twist to the whiteboard with their paint; it can be applied to any wall and within hours, one can start writing and erasing. For information on these innovative products, visit http://whiteyboard.com.
Media Contact:
Saachi Cywinski
5030 Parkway Calabasas
Calabasas, CA 91302
(818) 223-9117