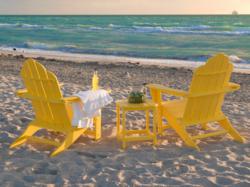 We are very pleased with the new styles we've added, and we think our customers will be, too.
Natick, MA (PRWEB) May 23, 2012
Premiere Adirondack Chairs, a leading online provider of patio furniture, is introducing an expanded line of Adirondack chairs just in time for spring.
The company, which recently rolled out a revamped website in order to improve the shopping experience for customers, has been a go-to source for outdoor Adirondack chairs since it was founded in 2008.
Owner Doug Hopeman worked with quality Adirondack Chairs vendors, including All Things Cedar, Siesta Poly Furniture, Polywood Furniture, Shine Company, Eden Outdoor Living and Cedar Delite to increase offerings on the company website.
"We are very pleased with the new styles we've added, and we think our customers will be, too," Hopeman said.
With the larger inventory and a new-and-improved website, Hopeman hopes to further expand awareness of Premiere Adirondack Chairs as a brand.
Adirondack patio chairs have long been a major draw to customers searching for the perfect patio outdoor furniture, and Premiere Adirondack Chairs is proud to offer a beautiful array of styles and colors.
Among the new selection is a vast number of wood Adirondack chairs in natural or painted finish, along with resin Adirondack chairs in assorted colors.
Styles include folding, stacking, and dining chairs, plus a beautiful Adirondack rocking chair selection.
With the new-and-improved Adirondack chair selection at Premiere Adirondack Chairs comes a trove of essential patio accessories to improve the lounging experience for customers.
A plethora of plush Sunbrella cushions are available to soften seats and chair backs. Sunbrella cushion color and pattern choices are varied, giving customers many options for sprucing up their outdoor decor.
In addition to patio chair cushions, Premiere Adirondack Chairs has added many Adirondack ottomans to its inventory. Customers will find a bigger, better Adirondack ottoman selection to complement their purchase.
Premiere Adirondack Chairs is a leading Internet resources for patio furniture, including the signature Adirondack Chair. The company, founded in 2008, is located in Natick, Mass., about 15 miles west of Boston.