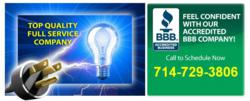 The vast majority of people find out about local products and services via a Google search. When someone is looking for an electrician in Orange County, CA then they will simply type in 'electrician Orange County, CA' into Google
Orange County, CA (PRWEB) May 22, 2012
Search Engine Optimization (SEO) service provider, SEO Service Group, has just announced that one of their clients is currently running a 20% "internet special". Orange County electrician company, Green Electric Solutions, have posted a printable coupon to their website homepage that enables customers to claim up to $250 off their services.
This promotion comes at a time when Green Electric Solutions are making a big push to enhance their visibility in the online world.
"Green Electric Solutions recently took us on to help maximise their visibility to clients looking for electrical services on the internet," said an spokesperson. "As part of the strategy, we have decided to reward website visitors by offering them with up to a $250 discount."
In today's modern world, search engine visibility is essential for any company, according to the SEO company.
"The vast majority of people find out about local products and services via a Google search. When someone is looking for an electrician in Orange County, CA then they will simply type in 'electrician Orange County, CA' into Google" said the spokesperson.
"Further more; it is usually only the top 3 or 5 results returned in the Google listings that win the custom. This is what we are working with Green Electric Solutions to achieve. This recent internet special promotion is part of our strategy to further build upon the reputation for excellence that the company has, but to the online audience."
For the full range of electrical services that customers can claim their 20% discount coupon on, visit http://www.electrical-pros.com/
About Green Electric Solutions:
Green Electric Solutions is an electrical contracting firm based in California that serves residential, real estate, contractor and commercial clients. The company prides themselves on using the latest technology and in providing the highest standards of customer service. The company operate 24/7 and are available for emergency call outs.