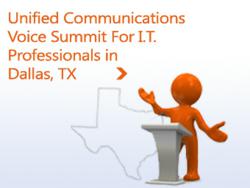 Microsoft, in an effort to make its commodity stickier with OCS, has stumbled upon the reality that there is a great gaping void in our need to be quickly understood
Irving, Texas (PRWEB) May 22, 2012
The Via Group, a premier provider of unified communications solutions, presents the Dallas Lync Voice Summit on June 12, 2012. The daylong event, which is scheduled to run from 9 a.m. to 2 p.m., will be held at the La Cima Club in Irving, Texas.
The Via Group, which was recognized in 2011 as the U.S. Lync Voice Education Partner of the Year, is teaming with other Microsoft™ award-winning partners to deliver a dynamic event tailored for all IT professionals and purchasing decision makers. Premier partners Polycom®, SoftwareONE®, Plantronics®, NET®, Windstream® and CTREC Hilton IT Academy will offer tips and solutions for successfully integrating Microsoft Lync Server 2010™ into the organizational culture.
The VoIP platform, Microsoft Lync Enterprise Voice, enables enterprises to bundle all multimedia and communication channels into one consistent environment. The unified communication solutions extend to instant messaging, phone calls, multimedia conferencing and calendar tracking.
The Lync Voice Unified Communications Summit offers up an opportunity for IT experts to discuss the challenges and opportunities of migrating to the 2010 server. Participants will also have several opportunities to network with top industry executives and esteemed design engineers who specialize in providing the ultimate Microsoft Lync Experience.
After opening remarks on the Lync Connection, one of the morning breakout sessions will focus on Microsoft's Communication Enhanced Business Processes (CEBP). This hour-long seminar aims to help attendees establish a business case for integrating multimedia platforms with Business Intelligence.
"Microsoft, in an effort to make its commodity stickier with OCS, has stumbled upon the reality that there is a great gaping void in our need to be quickly understood," notes Erin Romeo of The Via Group.
Participants who are more interested in harnessing the power of SIP trunking may prefer the "UC ... Zero Dollars: Exploring the ROI in SIP" seminar. Drawing upon factual case studies, participants will learn how to affordably and seamlessly incorporate unified communication solutions into their current disparate virtualization strategies.
The afternoon is devoted to exploring the Polycom Immersion Experience Center. This hands-on demonstration presents several interactive user experiences built upon the latest Microsoft business productivity solutions. Expert developers will be available to answer questions and serve as mentors. Polycom's systems enable businesses to implement scalable infrastructures that support collaborative, personalized, productive employee experiences in the office, at home and on the road.
A true believer in the technology that it provides to its corporate clients, the Via Group is a four-time recipient of the Sloan Award for excellence in workplace flexibility. By adopting VoIP technologies, Via's products bridge the gap that exists between telephony deployment and IT consulting by solidifying them into a single unified communications solution.
Other event sponsors include SoftwareONE, which has been providing reliable licensing solutions to help customers optimize their software budgets since 1985. Windstream is an enterprise-focused communications service provider. They offer a sophisticated, end-to-end suite of solutions nationwide ranging from TDM and IP voice and data services, MPLS, cloud, data center, managed services and communication systems. Plantronics Simply Smarter Communications has pioneered the audio communications industry for the B2B and B2C markets for the past 50 years, while CTREC Hilton IT Academy is a premier provider for IT training in the U.S. NET offers high-performance networking equipment and security solutions that are optimized for real-time communications.
Attendance for the Dallas unified communication solutions seminar is limited to 60 participants with a maximum of two professionals per organization. A $2,500 unified communications network will be awarded during the closing remarks.
For more information, visit the Event Details page or call (281) 716-1247.
Event: Dallas Lync Voice Summit
Event Code: 160484
Location: La Cima Club, 5215 N. O'Connor Blvd., 26th Floor, Irving, Texas.
About The Via Group
The Via Group is a globally recognized leader in providing Professional Services supporting Unified Communication solutions. As a leading solution provider and Gold Certified Partner for Microsoft, Via is a premier provider of communications solutions that span the full range of new and established technologies, including Voice, Video, Instant Messaging, Presence, Voice Messaging, Conference and Collaboration, and bringing them together into multi-vendor solutions.
The Via Group takes pride in offering business solutions based on a foundation of IT and Voice experience, technical expertise and solid project management practices. Our Microsoft Certified Engineers, Trainers and Professionals focus on Unified Communications solutions while our Certified Voice Engineers focus on integrations to provide a complete UC solution. Services include Discovery, Consulting, Architecture Design, Deployment and Support in both the IT and Voice environments.