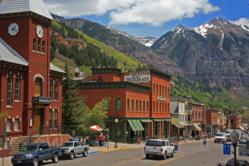 "Films are meant to be the starting point for conversations about how to improve the world we live in"
Telluride, CO (PRWEB) May 22, 2012
Memorial Day weekend marks the beginning of a very busy summer in the tiny mountain town of Telluride, Colorado. With over twenty unique festivals, stretching from May to October, no wonder it's considered the "Festival Capital of Colorado."
First up, Mountainfilm in Telluride, May 25-28th. Started in 1979, their mission has never changed: "Mountainfilm is dedicated to educating and inspiring audiences about issues that matter, cultures worth exploring, environments worth preserving and conversations worth sustaining." The unique combination of Southwest Colorado's outdoor enthusiast appeal along with Mountainfilm's conversations, exhibits, activists and more, has helped Mountainfilm in Telluride become one of America's longest-running Film Festivals.
Among the 75 films showing at this year's Memorial Day festival, at least ten will be world premieres. Ken Burns' new documentary, The Dust Bowl, will make its debut chronicling the worst man-made ecological disaster in American History during the 1930's. Also at this year's festival, Tim DeChristopher's story, Bidder 70. DeChristopher's peaceful environmental uprising landed him a two-year sentence in federal prison for disrupting an oil and gas auction in Utah. With plenty of other skiing, fly fishing, kayaking and outdoor films, this year's festival is sure to keep participants at the edge of their seat. For a complete 2012 festival schedule, click here.
In between films, don't forget to get outside and experience all Telluride has to offer. Hike Bear Creek Trail, ride the free Gondola, take a stroll down the River Trail, watch a free film in Town Park, grab a drink at Last Dollar Saloon ("The Buck"), eat dinner at the Sheridan Chop House or relax on main street as the unhurried pace of Telluride goes by.
Don't have Memorial Day weekend plans yet? Call us today at (877) 507-9695 for exclusive lodging specials or visit us online at: TellurideLodging.com
Telluride Alpine Lodging is the longest-standing, locally-owned and operated lodging company in the Telluride region. Offering a wide selection of hotel rooms, vacation homes and condominium rentals in both Telluride & Mountain Village. Telluride Alpine Lodging is the only place to look to find the perfect Telluride vacation rental. Like us on Facebook and follow us on Twitter for up-to-date events, photos, videos, contests, specials and more.
Contact:
Hart Roberts
(970) 728-3388, ext. 155
Hart(at)Telluride(dot)com
@hartwellskis
###