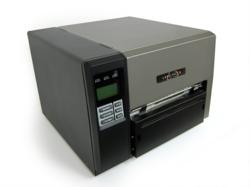 Lake Oswego, OR (PRWEB) May 23, 2012
With a die-cast chassis and metal exterior, an output of up to 4" per second print speed, and the ability to handle label material rolls up to 9.5 inches in width, the LabelTac 9 is poised at the forefront of affordable sign and label printing options for industrial, business, and office-related use.
Whether OSHA safety compliance labeling, arc flash warning signage or pipe marking stickers are needed, the LabelTac 9 is designed to be the industry standard.
With specs that far exceed it competition, it will easily accomplish daily work expectations, like: printing brand-marketing graphics, logos, itemizing inventory areas, pallet marking, and adding catchy safety and production slogans for internal facility-wide awareness programs.
With the included drivers and general software compatible printing abilities, this labeling system is set to deliver top-notch high production service for factories, warehouses, office building, and any other manufacturing or production facilities where quality and performance are in high demand.