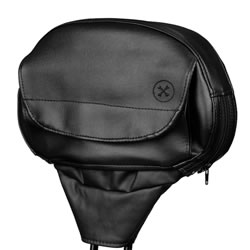 Our new product is ideal for those small items riders want accessible and don't want to lose at the bottom of their saddlebags.
Kansas City, MO (PRWEB) May 22, 2012
Bone Mountain Motor Gear's new product for motorcycle back rests, The Bone Ultimate Pocket- launches this month and offers the solution for riders who want storage convenience while on the road, but don't need the added utility provided by The Bone Organizer.
"Solo riders, in particular, have been asking for a way to store their smaller valuables - like a wallet or glasses - things riders want accessible, and not lost at the bottom of a saddle bag," said Lisa Craig Bone, President and CEO of Bone Mountain Motor Gear.
The Ultimate Pocket features a large, secure catch-all pocket and slips over the rider back rest providing riders a secure and convenient solution for storing traveling necessities on the bike.
A full list of stores carrying Bone Mountain products is available here.
All Bones are hand-crafted, weather resistant, patent pending and made in the USA.
Bone Mountain Motor Gear makes products designed to enhance the safety, comfort and convenience of motorcycle riders and passengers. The Bone, along with fashionable apparel and merchandise are available on-line and in select retail stores.
Find us at http://www.bonemountain.com, Facebook: Bone Mountain Motor Gear and on Twitter: BoneMountain.