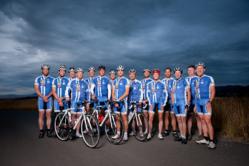 This gives us the ultimate testing stable of athletes in various sports
Bozeman, MT (PRWEB) May 23, 2012
The Heart Rate Watch Company Blog has launched featuring several world-class athletes as testers. "We are very fortunate to have access to so many world-class athletes in Bozeman so we decided to put them all to work testing heart rate monitors, GPS watches, bike computers and more," says Rusty Squire, President of the Heart Rate Watch Company.
50k ultra-runner John Yarrington has been testing watches for the past few months. "Yarrington is a world-class, go all day type of athlete" says Squire. He adds. "He has climbed and skied the Grand Teton, ski mountaineers over 10,000 feet in a single day and routinely runs 20 miles and bikes 100 miles without even thinking about it, which is why people here in Bozeman call him the DNA man."
Master's World cross-country skiing champion Shawn Marshall-Pryde also resides in Bozeman and is taking part in our testing program. Shawn is an avid runner, cross-country skiing champion and a former top USA biathlon competitor with much international competition experience.
For cycling tests the company is using the Rockford/Heart Rate Watch Company cycling team members, many of whom are Category 1 & 2 riders, to provide feedback on the cycling products.
"This gives us the ultimate testing stable of athletes in various sports," says Squire. He adds, "The big difference between our company and nearly all of our competitors is that we test, use and know these products - no posers are allowed at Heart Rate Watch Company."
The blog is a natural extension of all the testing work the company has done in the past and gives athletes who have their own independent opinions to have the opportunity to test and write about the various new products on the market from a wide variety of manufacturers.
What is found on the Heart Rate Watch Company blog is the unedited version of what the athletes themselves have to say - the good, the bad and the in between in a completely unedited dialog with customers and interested followers.
"We are super stoked about the opportunity to have so many top athletes and bloggers reviewing and answering questions for our customers" says Squire. He adds, "This is the way it should be an open dialog with real experts and not just a bunch of wannabees."