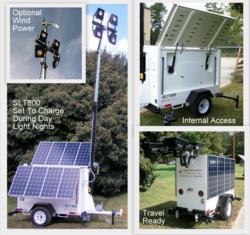 The Progress Solar Light Tower fills an important need in many industries at a surprisingly modest cost and essentially eliminates routine operating expenses. At the same time it will increase revenues to the equipment sales and rental companies."
Apex, NC (PRWEB) May 22, 2012
Progress Solar Solutions™, LLC (manufacturer) has partnered with the Lew Hudson Sales Team (manufacturer's representatives) to represent its exciting line of portable Progress Solar™ Light Towers. The Lew Hudson team consists of 14 representatives in the southern regions of the U.S. (FL, GA, SC, NC, TN, AL, MS, AR, LA, OK, TX, WY, CO, NM, UT, AZ, NV).Lew Hudson's team focus for the solar light towers will be to sell and service to the national, regional and independent equipment rental companies and dealers in its area of coverage.
Progress Solar Solutions manufactures a complete product range of six portable, Solar and Wind powered LED outdoor lighting systems. This Progress Solar light plants will work in every region of the U.S. The company has recently expanded its manufacturing capabilities and produces in multiple facilities. Progress Solar is currently an approved or preferred vendor for 6 of the top 10 Equipment Rental Companies in the U.S. and has units in the different departments of defense. The Progress Solar Light Tower resembles a traditional portable diesel light tower but is powered 100% by free renewable energy instead of diesel fuel.
The Progress SolarTM Light Towers and Progress Solar/Wind™ Light Towers are made in the U.S. (patents pending) and operate independent of diesel, gas or the electric grid eliminating the use of fossil fuels or generation of carbon emissions. The light plants can be powered a number of ways. They are powered primarily by two on-board solar power generators as well as with additional power on cloudy days and at night through an (optional) wind generator housed above the LED flood lights. And for redundancy and as a backup, the large battery banks that store numerous days of lighting can always be charged via an onboard dual-bank AC power charger if ever needed.
The Progress Solar Series of Light Towers are rugged, mobile light systems that provide high-intensity, bright white lighting on-demand, where and when you need it. It is equipped with high power generating Solar Modules housed on automated solar wings that can be optimally positioned toward the sun to maximize solar energy gain; an optional wind turbine at the top of the 33' telescoping mast; four (4) solid-state LED flood lights with high lumen output; and a long-life Power Module with either flooded or AGM, no maintenance, sealed, deep-cycle batteries to store energy for use when needed at night or during inclimate weather. The light tower is fully adjustable from 12-30ft in height, lights can be individually tilted up/down and the mast can be rotated to direct the light exactly where it is needed. The solid-state LED flood lights provide a tremendous amount of light, minimize power requirements; provide instant-on/off with no flickering; are extremely reliable, vibration and shatter resistant; and designed to provide up to 5x longer run time between bulb changes than metal halide lights. The Solar/Light Control Module protects the system from over/under charging and the lights can be turned on/off automatically from a timer, at user-programmable time intervals or manually on-demand. The system is on a portable trailer customized for maximum functionality and convenience and can be easily towed to its destination.
Dan Robertson, a partner for Progress Solar Solutions, commented, "The Lew Hudson Sales team is proven and have established deep relationships over time with the U.S. equipment rental companies at corporate, regional and branch levels for the states they serve. I am confident they will do a great job in increasing awareness and growth with this exciting product line."
Lew Hudson, the principal of Lew Hudson Sales, commented, "I think the Progress Solar products fill a very important need in many industries such as plants, airports, universities, hospitals, special events, etc. at a surprisingly modest capital cost and eliminating routine operating costs. At the same time it will increase revenues to the equipment sales and rental companies."
About Progress Solar SolutionsTM LLC
Progress Solar Solutions, LLC is a located in Apex, NC and specializes in providing high-performance, eco-friendly and cost-effective solar and lighting solutions for commercial, industrial, government and institutional applications. For more information on Progress Solar Solutions, LLC or the Progress Solar / Wind Light Tower (SLTW-800-HVR), call (919) 363-3738, x405 or visit http://www.ProgressSolarSolutions.com.
About Lew Hudson Sales, Inc
Founded in 1977 by Lew Hudson as a sales and marketing company that represents manufacturers of construction, industrial and rental products. Over the years the company has been fortunate to have the opportunity to introduce many quality and innovative products to the construction equipment industry.