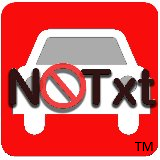 Last year, over 11,000 deaths were attributed to texting and driving in the United States alone.
(PRWEB) May 23, 2012
With over 11,000 fatalities last year due to distracted drivers, most states are passing new laws and regulations to help the motoring public with this growing phenomenon. It is vital for parents to take notice, since the majority of these accidents and fatalities are teenagers.
On May 20, 2012, DataLynk Communications Corporation released the latest version of it's Award Winning App—NoTXTnDrive.com® which is now available at Amazon, The Google Store (Android), Blackberry Store and Nokia.
This is a Life Saving Application that has been seen on ABC News, NBC, NPR, FOX News, CNBC, Associated Press and more. This is the Original No Texting and Driving APP designed to stop distracted driving and help keep you safe on the road. Version 3.0 has Password Protection which allows the parent or other supervisory person to activate as well as de-activate the program on the phone.
Texting while Driving has now replaced Drinking while driving as the leading cause of accidents and deaths of teenage drivers. Last year, over 11,000 deaths were attributed to texting and driving in the United States alone.
The NoTXTnDrive® App is simple to use, utilizing the GPS of the mobile phone to determine driving, and runs in the background of a mobile user's phone. The App automatically activates when driving is detected and restricts the phone including calls, texting and email allowing the driver to focus on the road. Once NoTXT n' Drive® detects that the user has stopped driving, it automatically deactivates and phone functions return to normal.
In addition to being the original, NoTXTnDrive® is the only app of it's type to be legal in all 50 states. It has no monthly charges—only a very small, one-time purchase which includes a no questions asked refund policy. Thousands have been purchased—saving lives each and every day.
NoTXTnDrive® is a Division of DataLynk Communications — the largest provider of Business APPs in the United States-ensuring you World Class customer service not only during the purchase—but after as well! With tens-of-thousands sold—we are proud of our product and our personnel who keep it going.
For more information, please send us an email at info(at)NoTXTnDrive(dot)com