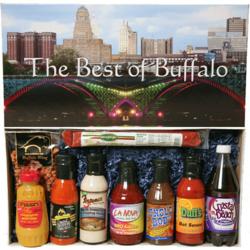 Elma, NY (PRWEB) May 22, 2012
The Made In America Store brings a gift box set that gives a taste of what Buffalo has to offer with nine different items. Not only is every item from Buffalo, New York, but each item is 100% American made, making the gift set a perfect candidate for the Made In America Store.
Western New York is renowned for the hometown food, from pizza & chicken wings to beef on week. Wing sauce, barbecue sauce and mustards are all part of the long list of family owned vendors that give Western New York its title with food.
The Made In America Store has worked with these vendors to come up with a gift box that is sure to bring the flavors together. Consumers will love the assortment of Western New York favorites which include Weber's Horseradish Mustard, Wing King Sauce, Crystal Beach Loganberry, 4 Chef's Garlic Dressing or Fortuna's Italian Dressing, Chiavetta's Barbecue Marinade, Illio DiPaolo or Chef's Pasta Sauce, LaNova Barabacue Sauce, Buffalo "City Blend" Coffee, Battistoni Pepperoni and Buffalo Wing Nuts.
Consumers looking for a gift box with an array of sauces, marinades and more can visit http://www.MadeInAmericaStore.com or call 716-652-4872 and speak with a representative to place an order.
The Made In America Store is located at 900 Maple Road in Elma, New York and is committed to selling 100% American manufactured products. You can visit http://www.MadeInAmericaStore.com for more information or shop our catalog of over 290 vendors that are devoted to producing USA made products. All US military personnel both active duty and retired receive a discount every day. Consumers can also keep up to date news articles, events, photos and contests with Facebook, Twitter, Google+, Pinterest and Tumblr!