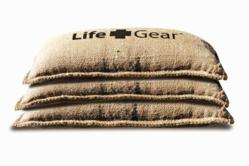 Recent innovations in technology have transformed the traditional sand bag into something that is reusable, recyclable, and depending on the usage, more effective
Destin, FL (PRWEB) May 22, 2012
Flooding from Hurricanes is a top fear of coastal homeowners between June 1st and November 30th. To mitigate the storm damage, many Americans use sand bags. Sand bags are traditionally a burlap sack filled with sand, and when placed strategically, they have the ability to keep flood waters from penetrating a home. Recent innovations in technology have transformed the traditional sand bag into something that is reusable, recyclable, and depending on the usage, more effective. Disaster Relief Supply, an emergency preparedness retailer, encourages home and business owners to learn the disadvantages and benefits of both the traditional and alternative sand bags before stocking up this hurricane season.
Traditional Sandbag (Burlap or Polypropylene Sack Filled with Sand)
The traditional sand bag typically entails a burlap or polypropylene casing filled with sand. Sand is usually offered by the local government in the event of an impending flood or hurricane/tropical storm, and cannot be taken from public beaches or parks. It is the individual's responsibility to fill the bags (usually by shoveling the sand into the bags), and a 14x26 inch sand bag filled can weigh up to 40 pounds. It is also left up to the individual to either store the full sand bag, or dispose of it after use. Although these old-style sandbags are sometimes difficult to manage, they do provide adequate protection from rising flood waters, debris, and other flood related hazards.
Life Gear Expandable Sandbag (Burlap Sack Filled with a Biodegradable Polymer)
The Life Gear Expandable Sandbag is a perfect solution for homeowners and business owners seeking a less strenuous workload during emergency storm preparation. The Expandable Sandbag (before expansion) is light, small, and easy to store and transport. When the expandable sandbag is saturated with water for 3-5 minutes, it becomes a 30 pound sand bag equivalent. Disaster Relief Supply recommends these sand bags to customers due to 100% biodegradable construction (as opposed to similar products with a polypropylene shell that does not biodegrade), and an easier alternative to shoveling large amounts of sand. When finished with Life Gear Sandbags, the innards of the bag can be poured onto a lawn or garden to hydrate the grass or plants, this eliminates tedious sand disposal.
HydraBarrier Water Filled Sandbag (Water Filled Bags for Flood Prevention)
The HydraBarrier Water Filled Sandbag is not really a sand bag at all. The HydraBarrier was created by Watershed Innovations as a convenient, easy to use alternative to a sand bag. Essentially, this product is a long, thick tube composed of a vinyl material specially created to block water, and stand up to typical flood debris (sticks, small rocks, miscellaneous trash, etc.). The HydraBarrier is easy to fill via any spout or garden hose, comes in multiple sizes, and is reusable. Watershed Innovations designed the sand bag substitute to specifically protect against rushing water caused by high winds, and varying geographical landscapes. Disaster Relief Supply began carrying this product after local lodging businesses praised the HydraBarrier for its economy and effectiveness.
Flooding from hurricanes, tropical storms, and other acts of nature can be severely damaging, and sand bag and sand bag alternatives offer consumers a chance to mitigate this damage. Disaster Relief Supply offers multiple flood preventative product options in an attempt to prepare local Florida Gulf Coast and national customers with the proper supplies.